As usual, every night of my life, I'm riddled with the same question..."what's for dinner?"
As many of you may well know, we have PLENTY of various game in our freezers to choose from, but you know...that takes planning, and I just don't have TIME for that. (Either that or I'm just lazy!)



Its so hot the camera is steaming up!



Freezer

S

? Yes, we do have FOUR freezers. I have two kitchens in the house, so two regular side by side fridge/freezers, and then two huge 18 sf upright freezers in the shop. Why four?! Well...because we need it to store all our caribou, moose, musk ox, rabbit, goose, duck, seal, seal oil, ptarmigan, and whatever else Dean and the boys decide to bring home. Then we have one for "other food" like corn dogs, and pizza's from Costco.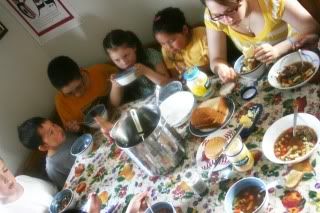 What? six person table? No way...11 person table!
Last night was no exception. What's for dinner? I thought about making some sort of easy cheesy rice casserole with ground caribou, but when I got home, the kids were ALL at my mom's. And I mean all six of her grand kids! Aana was babysitting!
Either that, or the kids went over there because she's nicer than me, and cleans up after them...and lets them play DS, and has a play room just for kids upstairs.
Happy eater that Coltrane.
When I arrived, the smell of heaven wafted upon me! She was making Goose soup! MmmMM.
Yes. Momma made us dinner!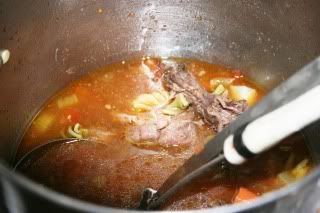 USUALLY, the head and feet are left on...but not this time. Shucks.
Goose soup is cooked for hours on a stovetop, and you can really put anything you want into it. My mom puts lots of veggies, and then ads some spiral noodles and a cut up potato. My aana makes it with rice, and carrots. I make it with plenty of carrots, snap peas and corn. Whatever you have on hand goes into the pot!
the good stuff...
While her soup is slow cooking, she usually makes a loaf of bread. I LOVE ME SOME homemade bread. When I was growing up and we had no money, which was always... my mom made six loaves of bread per week. I don't think I ever had "balloon bread" (wonder bread) unless I was at someone's house. And still today, the texture of white bread from the store grosses me out. It's so pasty and yuck!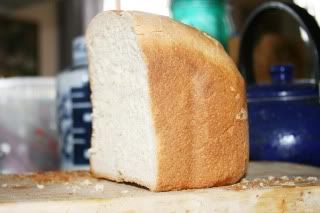 Momma's homemade bread. Mmmmm.
My mom (and aana) bake bread without measuring, with no recipe. They simply put in the bowl the same things they always have. Once I tried to learn how to make bread from my aana, and she was saying, "your hands are too big...you put too much sugar...one ONE hand of sugar...too much flour...adii, let me do it, my hands are perfect!"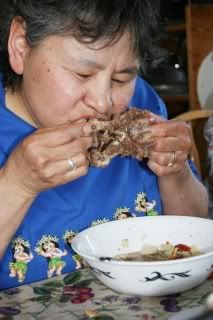 Qipchuq-ing...eating the meat off the bone. Your Eskimo word of the day!
Now that my mom works for the school, she makes bread weekly...all homemade, and all from scratch. She bakes about 400 loaves per week. Monday is the BEST day to walk through the school, because the smell of fresh bread permeates the entire place.
Our kids at this school eat everything made from scratch...if it can be made from scratch that is!
Its a family affair!
So, now that dinner is done for Thursday night...what's for dinner on Friday? Someone, please tell me what to cook for a family of six...plus three or four usually.