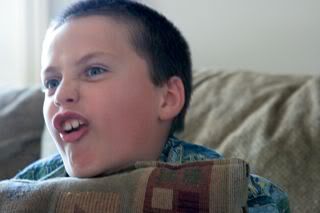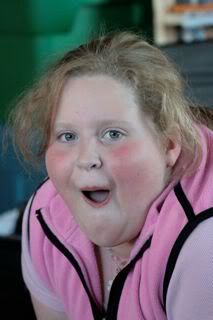 The twins and grandma arrived Saturday afternoon with no hitches, and no ex-drama...I'd say it was a good day!
Since the twins have been here we've been busy with seven kids playing out and eating us out of house and home, etc. Yes, I said seven. Koy, Maddie, Max, Kaisa, and AT LEAST three other kids all day every day. Usually, Uyaana, Clara and Coltrane are here with the kids, so that makes us home to a 12 year old, two 10 yr olds, a 9 yr old, a 7 yr old, a 6 yr old and a 5 yr old. Oh, and our two dogs, my 19 yr old sister, and of course, Dean, mom and I. Today, we also had Ally, another 6 yr old.
This is what we do for fun...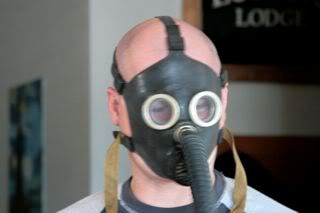 Dean is constantly doing SOMETHING with the kids, this time, they took Koy's gas mask and were scaring the girls. Can you say, SCREAMING fits?!
The girls and I planned the big ONE ZERO birthday party for tomorrow. They decided to do; Hot Dogs, Hamburgers, Creamsicle Floats, Ice Cream Cake, Shark Cupcakes, and Butterfly Cupcakes, with a side of Gunnysack races, three-legged races, water balloon toss, and two scavenger hunts!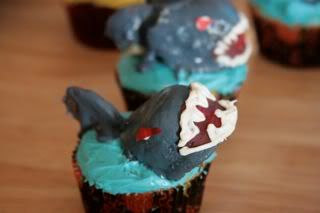 It took ALL DAY to make these cupcakes, and we finally made the homemade ice cream for the ice cream cake. Ambitious? I know. But, its the big ONE ZERO! And we use their birthday party for a welcome back party here in Kotzebue and invite like forty kids, and their parents.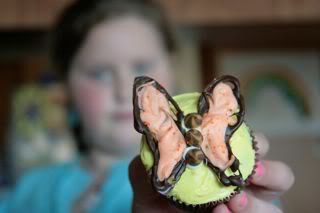 Oh and, since its always nice this time of year, we use it as the first big BBQ of the summer too.
It's always a good thing when they come, and we always have tons of fun planning the party, and trying to outdo last years!
Sigh...I'm glad we have tomorrow off, although we need to find aaka's grave and clean it out. I think it might still be under the snow though.
Happy Memorial Day Weekend. :)