OK, I don't know why I'm at work so early. Oh yeah, for my loyal five or six readers, that's why!
He was just so cute following us around riding his bike!
Yesterday I forgot my camera cord here, so I had to wait to load photos. Seriously, it was like that itch you can't scratch...it bugged me all night. So much so that I dreamed about posting pictures just so you could see something other than dreary Kotzebue!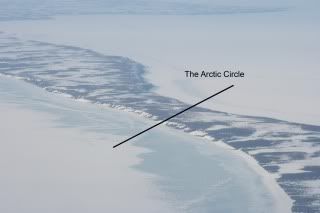 We flew over the Arctic Circle. This little stretch of land is also what holds Kotzebue onto the rest of the state...it makes us our namesake, "Almost an Island" or Qikiqtagruk.
We started out our day in a Caravan flying from Kotzebue to Deering. Our smallest village, at around 110 people, and one road. It was BEAUTIFUL there. We rocked our rubber's and traveled all day.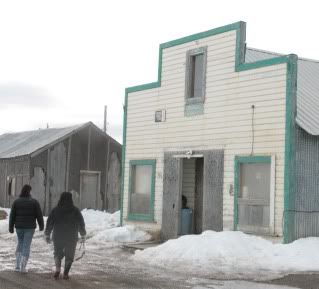 Deering Native Store...prices are less than AC.
I can't reiterate enough how friendly and accommodating EVERYONE in our villages are. I seriously strive to be like them. Most of our villages face flooding each year, because they are located on small spits of land, or near a river. If you're wondering why they didn't settle on higher ground, its was because of the water system. Everyone is settled on a waterway, whether its the ocean, sound, or a river. The water is a source of food and a source of transportation, and the oldest settlements simply relied on convenience.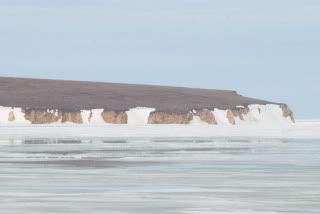 Deering Bluffs.
When all your villages are flooding, you do what is necessary.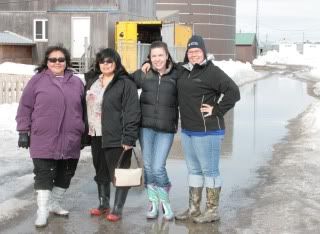 Like rock your awesome camouflage boots on a business trip. Yes, we were all on a business trip, rather than commuting with a car, we just commute with an airplane. And, yes, a lot of people own airplanes, like us. We have a four seater. (Don't ask me ANYTHING else. )
After our Deering meeting, one of the residents took us into his home and served us Caribou Heart and Tongue Soup. It was DELISH! Heart and Tongue Soup is a delicacy, so to be served that, it makes you feel like a big wig...but my head didn't swell!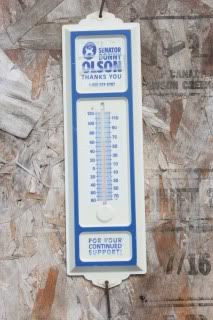 The temp outside was over sixty degrees!
We left for the village of Buckland next. I think we were in a Navajo...it had two engines, and I sat... Dun, Da, DUUUUUN Co-pilot! I am not the greatest flier, but the pilot, with over 30 years of flying out of Kotzebue, talked me through everything he was doing. I feel so knowledgable I could have damn near flew the plane! He told me to TRUST the plane...and I would be OK. Dang, that's what Dean says all the time.
Buckland is located on a river, and has about five hundred residents. I didn't get too many photo's, but the ones I did I'm saving for work...so you get to see.... Pussy Willow's! They were in full bloom there. And that mean's spring has sprung!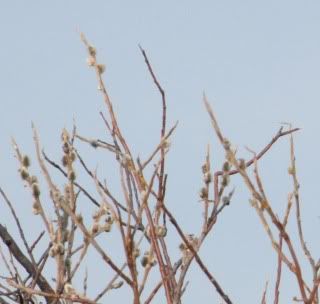 We came back home around nine pm, and while everyone was tired from all that traveling, we were also happy to be home. Thanks again to the great residents of Buckland and Deering. You rock. :)
Almost home...runway 2-7