Last night the residents of Kotzebue, AK embarked in a spring time favorite! The Annual Kotzebue CO-ED Softball "FUN" tournament in 29 degree weather, with reports of snow in the hills a mile from town.
Everyone comes out to watch. Even the doggies.
Nor wind, nor rain, nor snow, nor fog will keep US away from the softball tournament. First timers were surprised at the temperatures and the competitiveness of the league. Many players, clad in three pairs of pants, three shirts, a sweatshirt, and a hat (maybe that was just me!) enjoyed the seven inning games with minimal complaints.
Kirk Howarth pitching
Teams for this tournament are chosen based on the Luck'O de-irish method. You know, picking names out of hats! A pitcher is selected first to "lead" the team, because one year, we ended up with five pitchers on one team, and none on two other's...we we learned our lesson. After a pitcher is selected, the rest of the names are randomly chosen out of a hat. Women in one hat, men in the other. This year, we have four teams. In prior years we've had up to seven teams, but apparently, the snow and cold deterred some people from signing up.
James hitting
Games started Friday, and will continue Saturday. The winning team gets their picture taken and bragging rights. This year, my husband and I are on the same team, so bragging rights aren't as fun as years before when one or the other team beat the other! My sister and friends are on other teams though, so that will have to suffice for each of us in our "bragging rights!"
Even people who don't play come watch and cheer everyone on. Its a great community thing.
Today's weather forecast is for 28-31 degree weather, and 8-10 mph winds from the SW, and light drizzle to snow. Yesterday, I underestimated the weather, and didn't take into consideration the WIND chill...so I allowed my kids to come watch with simply leggings, and sweats.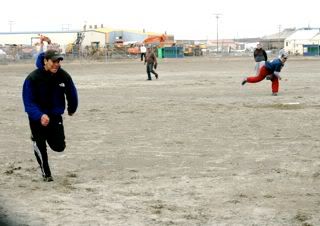 There is a ball at the top right of the photo. He was running from third to home, and was thrown out...the catcher was a girl, so everyone cheered. There are no hard feelings or arguments during this tournament. We save that for the regular season, which starts June 8th.
Today I pulled out the girls snowpants, and winter jackets, and the boy's winter boots to come watch. No complaints today! Unless you count ME, because even with silk long johns, regular long johns, and sweatpants, uh...two shirts and sweatshirt, hat, gloves and wool socks under my Easton cleats...I was still complaining and cold.
Don't you just LOVE Arctic Softball?! I do...