Boy Update: Yay. Very Excited. Typing fast. Whoo HOOO!
Went to hang out with Peter, came back with a haircut! Yay!
So, we went to the neurologist, and I have to admit, I was TERRIFIED. I tried to stay half sane and joked around with Koy, but I could tell he was scared too. He sat RIGHT next to me in an empty waiting room and asked repeatedly, "what are they going to do to me?"
Of course, I had no answer, so I tried to brush it off. The Doc (THANKS DOC!) was extremely helpful in our understanding why this happens, and was impressed (pat on my back) at how we've minimized the triggers with diet, sleep patterns, and talking about stressors with him. Don't forget though, we live above the Arctic Circle and it is hard to get an organic meal, veggies don't grow here, and all of our food is flown in over five thousand miles, so it HAS to be shelf stable! So, it takes a lot of lable reading, and subsistence foods, Caribou, Fish, Seal, etc.
Kaisa says she wants to be a "Pilite, a Nrse and a AC wrkr" and Jessa
says, "Docdr, Tchr and AC Wrcr" Maybe they'll work at AC together!
He looked in Koy's head, and found nothing
.
hahaha
. That's our big family joke now. There's nothing in there! The docs had originally thought that since his vision was blurry or non-existant when he turned his head, etc, that there may be something there... so we prayed. We asked for Nothing....we got Nothing!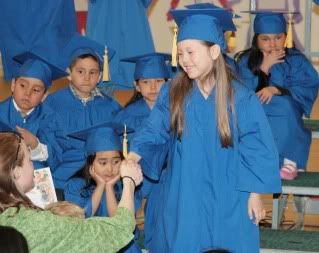 Kindergarten "Diploma."
AND... AND....and the doc stated that he's seen this before in young boys and he has a large chance (over 80%) that he'll outgrow them in puberty. I have NEVER wished for early puberty before....but COME ON PUBERTY! :)
Jessa and Kaisa, "BFF'S" as they call themselves!
We are all happy, and will continue to treat them as they come. School's out in TWO days here (yes, MAY 8th is our LAST DAY OF SCHOOL!) so he won't miss any school. He called one of our friends when we were done and hung out with the big boys while I shopped like a madman at Costco, (No pretzels though!) Target and Michaels.
We hitched a ride on the next 737-400 headed up north, to try to make it to Kaisa's Kindergarten Graduation and MISSED IT BY TEN MINUTES! :( ugh. Dean, Elsa and Cathy snapped a thousand photo's and Saima took video of the entire thing...so I almost feel like I was there. I made her sing me her songs though when we got home.
(I was corrected about the plane! I knew it was a seven-something-seven, but our 5,900 ft runway can't handle a seven FORTY seven!)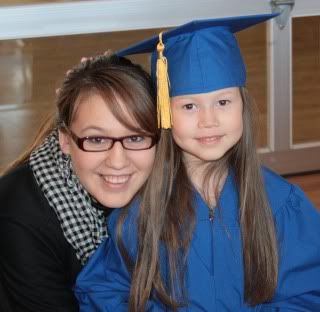 Auntie Elsa and Kaisa
The Kindergarten Graduation is a big event up here, people are generally really proud of their kids and since there isn't much to do otherwise, graduations are a bit hit! Any reason for the community to get together is fully used.
So, in Clara Dawn's words..."Happy Gragerashin Kaisa Reese! I love you!"