I decided I'm going to be lazy tonight. So here are a few random things to help tide you over until tomorrow afternoon's post!
1. It's snowing up here. Yep. Winter is here. While the rest of you get to enjoy your apple picking, pumpkin patch, autumn leaves and cool fall nights, we up here in Northern AK get to watch it snow.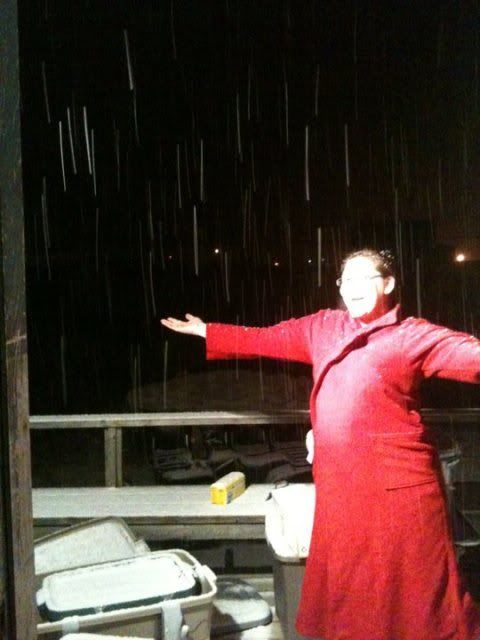 In our LL Bean fleece robes!
2. My husband is SO HOT! And I mean that in the most corny, childish, twitterpated way! I love this photo. It's not professional by any means, but it shows him in his element and he just looks so delicious I could...nevermind. Anyway, I still look at him and think he's hot.
Our dog's not too shabby either!
3. My daughter learned how to "cook" last night and therefore opened her own "restaurant." She made us all "Brinner" (Breakfast for Dinner for those of you without imaginations!) When I was younger, I thought my mom invented this dish. And I'm gonna stick to that story! She's genius. So, for Brinner, we had "Hole-in-the-toast-egg-in-the-middle." Then guess what we had for breakfast? Yep, Hole-in-the-toast-egg-in-the-middle. And uhm, guess what we're having for dinner again! Oh, not Hole-in-the-toast-egg-in-the-middle!
By the way, every time you say it you have to say the ENTIRE thing, Hole-in-the-toast-egg-in-the-middle. And she will have her first "tute" tomorrow on the blog!
Here is a menu from my daughter's restaurant:
"Kaisa's Restaurant Menu: Girl cheese - $3. Hole-in-the-toste-egg-in-the-middl - $4. Penut butter and jelly sandwich - $3. Aple - $2. Juce - $1. Milk - $1. Jump on my trampaline - $2. Hugs and kiss's - Free"

Should I tell her that the trampoline is full of snow?