With spring in the Arctic, comes a plethora of items that once were lost, but now are found.
So, we like to play a little game. Prior to the snow melting, we make a list of the things that were previously "lost" (i.e. left outside, then it snowed and we were too lazy to dig them up) and see who gets the most right.
Today, it hit FORTY degrees out! Whoop, whooooop! So, needless to say, we have a bunch of crap in our yard that needs to be cleaned up. But then again, we can't really do that until our hose magically appears from under the snow!
I spy with my springy eye...
A black
grill
, Dean's friend so we can eat,
Two coolers
that in winter stored meat,
and a poor lonely
fan
that blew and that blew,
and I see Koy's brown and white
bike
that's new.
Not just that cause during a storm our
window
fell,
fell onto the ground and put our
two dogs
under a spell.
Kaisa lost a
helmet
that's pink,
and I spy a
juice cooler
that's EW! probably stink.
The
dresser
and
rim
were broken, and now are gone,
but that's ok, I see
three fold up chairs
to sit on.
And last of all in this fine picture, I spy a
tote
we always put stuff away in and stored,
And on the ground a green dead
extension cord
.
We're not done, no-siree,
There's another picture, lets go look and see.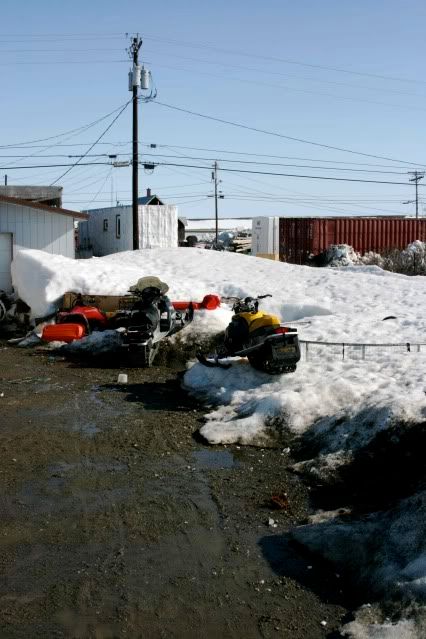 In this photo, I see lots of ugly
SNOW
,
and of course, momma and daddy's cool
snow-go's
.
In that pile I see a corner of the summer
trampoline
,
and two plastic
sleds
that are red...not green.
Whoa! you may say, many things are still buried and gone,
But I spy my old
4-wheeler
that Shockey chewed on.
That new $8,000
outboard motor
is safe in its box,
but not so safe are Kaisa's
red socks
.
Oh me, oh my, I spy the corner of our
basket sled
,
And the
blanket
shockey used this winter that's red.
And now my poem is all finished, all done.
Come back next May, for some more I spy fun!
Yeah, that's my nod to my favorite author,
Dr. Seuss!
:)
Here's my nod to the MEN who are going to clean that springy I spy mess.
YOU GUYS ROCK! THANK YOU for not complaining and making me do it! :)