Up in Kotzebue, there isn't much to do...so we just make stuff up to entertain ourselves.
The local high school wrestling team hosts an annual "Thursday Night Fights" boxing match between the wrestlers and other kids within the school.
We watched some good friends box each other, and better yet, we watched some all out grudge matches too. :) Those were the fun ones.
The only thing the kids need is their parent's permission. Of course, my son did NOT have my permission! But we went, because what else are we going to do on Thursday night in Kotzebue? A ton, and I mean most of the people who weren't working in Kotz. went to watch! It was GREAT!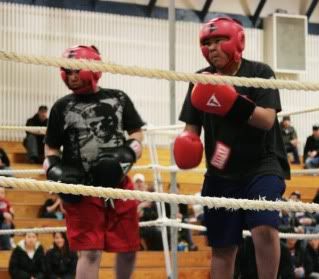 These boys are Koy's age..
.
They started out with the middle school kids. These guys are my SON's age. I can't imagine him fighting like that! Then went on to girls, and then eventually high school boys. The main event matched the state wrestling champ 3 yrs running with another state wrestling champ who had a 6 inch reach advantage over the kid.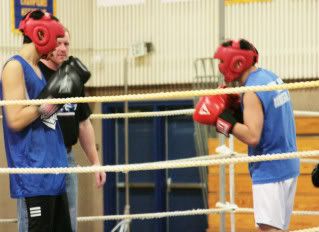 I can imagine if we, as adults did this. The weekly Lion's Club dance would consist of people yelling at one another, "Oh yeah, I'll sign up to FIGHT you if you don't watch it!" "You sleeping with my man? I'll Fight you at Thursday Night Fights Beeatch" I'd pay FIFTY bucks a ticket to see that! But...it'd be only women fighting, and I can see it for free at 3:00 a.m. if I want to stay up that late, so why bother!? :)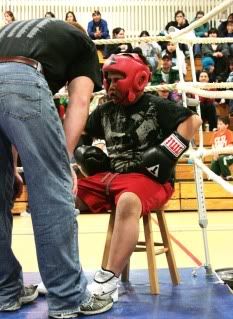 OK...remember, we, in Kotzebue live in a small town and we have two grocery stores, one hardware store (I'd hardly call it that, but it'll do in a pinch) and like fifteen churches! We have to be very "creative" when we do things here. :)
Here is the Ring. It consists of the Choir Risers, with a wrestling mat duct taped to it, and the actual "ring" itself is the climbing rope hooked onto to some crutches, taped onto the moveable volleyball poles, weighed down by the freeweights from Gym class. If that's not CREATIVE, I don't know what is!!!
Anyone need crutches? I know where to find em.
We don't segregate. We let ANYONE fight. Here is an all out Girl Fight. These girls are in 8th grade.
We're all for Disabilities too, The guy in the white shirt is Deaf, and his interpreter was next in line to fight. We all think he won, but the judges were paid off by the other kids mom. (P.S. he was my FIRST student. I had him as a 4 year old when I interpreted ASL for him....and I LOVE him...so my thinking he should have won was NOT biased at all!)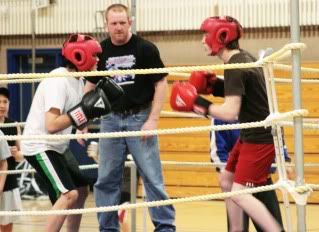 We even had "ring girls" although I think it would have been better if they wore fur bikini's just to add to the nostalgia! Only the pretty girls get to be ring girls! I think Eskimo girls are the most beautiful women in the world. Again...I'm not biased, they just are!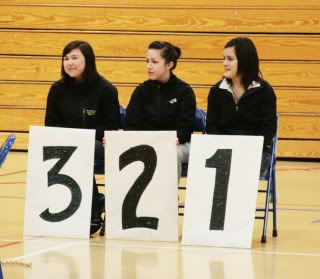 The big boys were the best fights.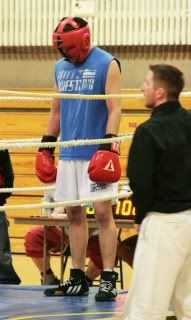 Only one casualty happened. He dislocated his shoulder and that forced us to wait about fifteen minutes. The kids were getting crabby.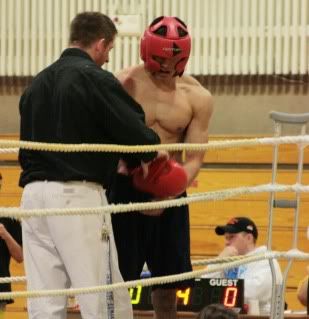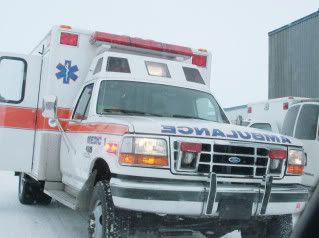 This is what happens when you fight your brother all day long.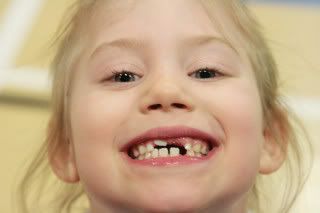 Gage had to get in on the action too. This is what happens to your teeth, when you're old, he says...
My mom showed up to watch even! She and Kaisa are BFF's. Kaisa's Eskimo name is after my mom, so she's a little "spoiled" one could say.
And in the end, a winner is declared...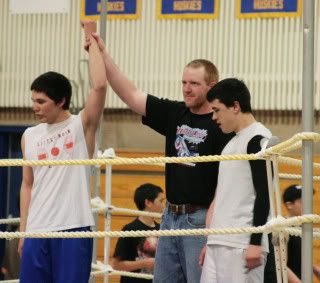 Until next time, I'll just have to settle for Lion's Club.