Saturday Skunking!
The women's snowmachine race was Saturday morning starting at eleven. Cathy and I went out to watch and video the crazy women going a hundred miles per hour. During the lag time, between getting to Noorvik and back to Kotz, we went fishing.
After the race, we hung out and fished some more. The kids had school, and Cathy left to shoot the KDMA Women's Dog Races, but I stayed behind. Dean eventually made his way back to us as well.
At around three, we went to pick the kids up. We simply rode to the school, picked up the girls (Clara and Kaisa) and went home, made some Taquaq (food), got the girls ready and left. It was the first time we took out the "Eskimo Sled" he got me for Valentine's Day, and it is...AWESOME!
We ran into Kari and Eric and their kids out there, fishing in some slush. We told them where we were...no slush! and all piled up into a bunch, all trying to catch fish.
It didn't happen, but not for lack of trying!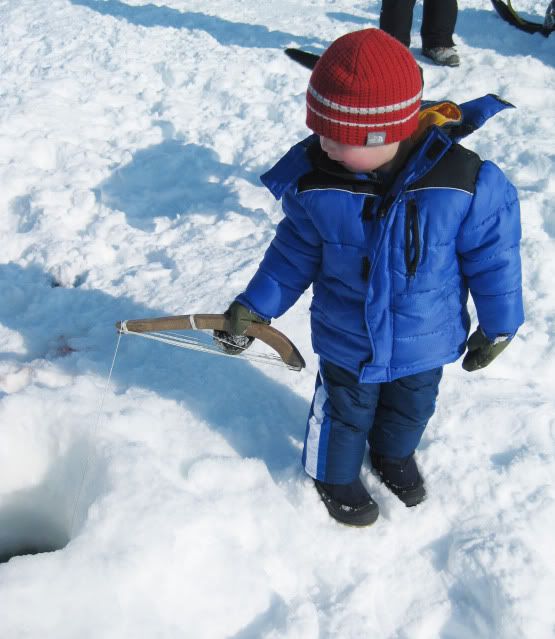 It was VERY bright out there. The sun was shining, the snow was glowing, and all around us, all we could see was white. So...sunglasses were a hot commodity!
While the adults had "magic cocoa" (my new favorite), the kids had some hot chocolate, thanks to Eric bringing his stove out!
And...the kids just rode Emily and Gage's 120...and rode...and rode... and Dean even got in on the action. We didn't think about bringing Kaisa's 120...duh.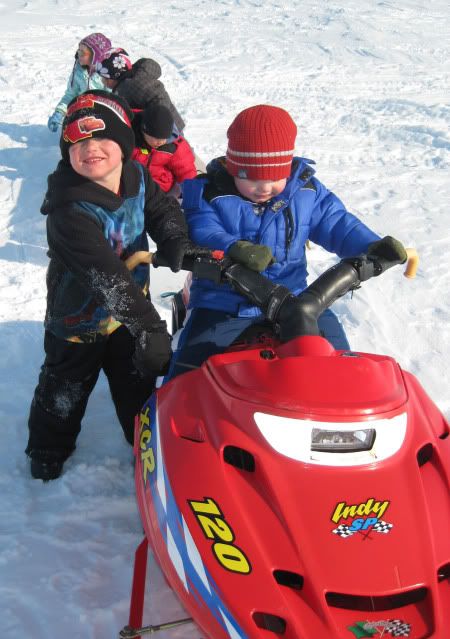 Even Dean got in on the action of riding in the sled!
Oh...here I am! My one and only picture. Always behind the camera, never in front! hehe.