Well, as much as I'd love to report something really exciting happening, I can't!
We didn't manage to get that darn fox, but the dog catcher said he was still out there. On Sunday after church, my mom said it attacked her and she was ready to jump into the back of a white pickup truck as she was walking to the ice to watch the dog races. It barked at her and walked off. We're still waiting to hear whether it was shot or not. Apparently it has attacked many dogs and they are all quarrantined...including Nugent. But, he's being quarrantined at our house! :)
Dean with his AR-15 ready to shoot the fox!
I missed the Archie Ferguson/Willie Goodwin Snow Machine race, because my husband told a friend of ours that he could use MY snowmachine to watch. I was a little peeved, but it gave Kaisa and I a chance to go to Anchorage for the day to do some Birthday Shopping. My little girl will be SIX years old. Oh my, how times flies.
She was super excited to sit in "First Place," or First Class as many of us know. She asked for her complimentary water, and her cranberry juice in a glass! Kaisa slept on the way to Nome, but stayed awake for the trip to Anchorage, becasue she knew we'd be getting breakfast. They served us spinach quiche, fresh fruit and sausage.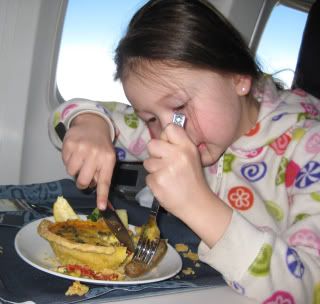 There was some trepidation in her trying the quiche, and she declared as loud as she could, "My mommys egg pie is way better than this one...but I'll still have a bite, right mom?" So, I was happy for that vote of confidence for my quiche, or Egg Pie!
Landing in Nome, we heard news that the volcano had erupted again, so I was a little worried that we'd get stuck in Anchorage. Luckily, the ash was moving SouthEast and we could fly around it. I only took my little canon pocket camera, so the photo's are a little grainy!
A full day ensued with our traditional stop to McDonald's for a happy meal. Elsa and I didn't get anything, but we can't come to Anchorage without getting a Happy Meal!
Kaisa decided that she wanted to have a Build-a-bear party. Many of you know, we don't have a build-a-bear in Kotzebue, let alone a mini-mall. So, we went to the Fifth Avenue Mall and picked out 12 build-a-bears for her friends, and had the staff stuff the arms, legs and partial bodies. At her party, we will place the hearts in their bodies, finish stuffing them, and play a few games for outfits. We are happy to know that for $120 we can have a 12 kid party! :)
From there, we headed to The Party Store, where we picked up some party favors, face paints, and the sort. We ran into Kaisa's great-aunt Bingy, and she got her first (of many) birthday presents from her. She was so excited!
From there, we headed to Fred Meyers for my groceries (and some Easter stuff for the kids) and a bottle of wine. We managed to pack in SIX rubbermaid totes full of stuff to bring back to Kotzebue! We left at 8:30 am and arrived back in Kotzebue by 7:30 p.m. It was a long, but really good day! We did get everything accomplished we set out to do, so I'm not complaining of jet lag.
While everyone was out tooting around on snowmachine, Dean and Spencer went out hunting for whatever they could find! Spencer had his snow shoes and was able to get a few rabbits in the willows. Its our tradition to eat Rabbit on Easter.
Don't knock it till you try it! :)
Tonight is the Wrestler's Banquet. Can't wait to eat deep fried shii fish in beer batter! mmm...