As Easter quickly approaches the kids are excited to the point of shaking! Thank Goodness Emily had an egg coloring party at her house last night.
Apparently, it was just going to be a few kids, but ended up being a humongous party with lots of kids!
Eric made some moose fingers, and Kari and I corraled the kids for as long as their attention span could handle.
They had fun. The most fun was taking the eggs out with their bare hands, forever marking their fingers, showing all of Kotzebue that they did indeed color eggs!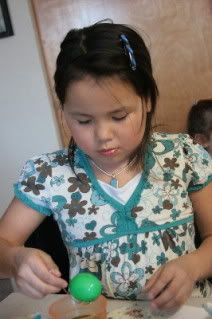 Thanks Kari for inviting us over. Now we have enough eggs for the Easter Daddy to hide! :)