I wonder if you guys know that I have 74 first cousins on my mother's side. Yes...that is a LOT of cousins!!! Remember my past blog about Ila (ill-ya), well, these are my Ila! :)
So, one of those cousins is graduating this year from good oleKotzebue High... Ariel Dawn. She and I share the same Inupiaq name, Katak. We're named after our grandmother, Katak! As if you didn't know that!
Anyway, she's a hearty halfbreed, just like me!!! She's so beautiful too... See for yourself.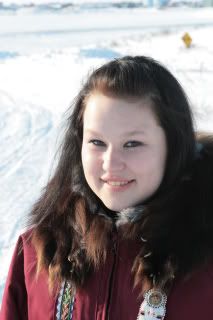 We went out in the tundra by cemetary hill to take these pictures. We figured everyone has the same old, same old Senior Photos, so we'd be different. :) It worked!
She's using our aahna's parky with a wolverine isilgvik (ruff)...and she dyes her hair...its natually a bit lighter than that!
To all seniors around...congratulations and good luck!!!