Does all this talk on air pollution, greenhouse gasses, and carbon emmisions make you feel like me? An un-earth-educated Styrofoam eating, alien on your plastic and tin foil planet? For gosh sake, I even used HUGGIES disposables on both my kids as babies.
Its seems to me that any recycling center is in a galaxy far, far away, and with all this talk, my kids will end up in nice eco-friendly bubbles when they're on their first dates. New York City will be in a Terrarium, with the more advanced alien life forms looking down into it, bantering about how those "poor, little humans just can't resist waste…"
It's hard to imagine our ocean and bluffs not here to look at...
My daughter came home and said to me, "Mom, we need to save the earth!" From where I stand, the earth is nice and clean. We have beautiful rivers, trees (not HERE persay, but a little way up the rivers!), and beautiful blue skies 24 hours a day. The berries come out and we pick them next to the dumps! The only threat we face is too much dust in the summers that stirs up when kids go riding 45 miles per hour next to your inisaqs and your uugruk gets ruined.

When I sit and ponder where I live and what I do, I see waste all around me. My grandmother sauqataq (scolded) me for having more than one bag of garbage per day in our house. With two kids full time, a niece who's always there, and various friends in and out of the house, its hard not to waste one 13 gallon bag of garbage per day. But, where is it going? And what can I do to stop that?
So, I thought to myself…"OK self! What small steps can we do to begin living more "green?"… But how can my daughter get a Girl Scout Patch at the same time?!" (hehe…) So, we came up with the "Earth is our Home" badge for Brownies. (Clara is a Brownie, and Kaisa already pretty much has her daisy stuff down, so we're working on the Brownie patches now.)
The colors of the fall tundra are the most beautiful here.

Tonight, we're planting mint, basil, thyme, coriander, and sage in our used jars and cans that we've been saving for a special day. We do have over 16 hours of sunlight, but don't forget, up here, its still 10 degrees. Come summertime, our herbs will come to fruition and we'll be able to savor FRESH herbs with grilled salmon and caribou.

We also made a cleaning solution together, very "green" if you ask me. We mixed baking soda and water to clean the tub, and to clean all the gunk off the dirty windows, the girls mixed some white vinegar and water, in no time, the window's were news papered clean!
Lastly, we've been taking our Longaberger basket to the store to pick up groceries. Not only do we not use plastic bags, but it also cuts down on the amount of unneccesary groceries I buy. Only so much can fit inside it, and that's all I'm limited to when we go. I'll admit it's a little tough to drive on a 4-wheeler with a basket full of groceries, but in order to "do our part" we have enjoyed the balancing act it takes! (www.longaberger.com/maijalukin) Its the Longaberger Market Basket that I use... it also fits a 9 X 13 pottery baking dish inside it as well. Very nice indeed!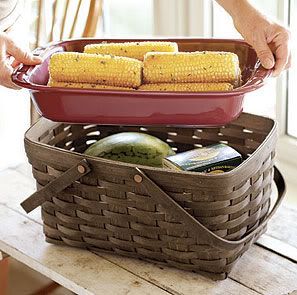 For sure the girls will earn an Earth Day patch, and we'll all sleep better, in our nice, clean air! Consider it my good deed for the day!

Happy Earth Day Everyone!