Anivililuk tuutin, Quvaisuqlu anivililuuq Ahluniq!
Happy, Happy Birthday Ahlu!
Today is my daughter's sixth birthday. Six is just too old for a baby. I remember when she was born, 10:44 p.m. right arm stuck above her head during delivery, cried for twelve hours after she was born, nurses didn't think she'd have full use of her right arm, and figured she was crying because of a headache, and a hurt arm.
Today, she's fine, her right arm is fine. For those of you who know her, she's about 50 inches tall (super tall, amazon woman!) and weighs just about 50 lbs. She's doing great in Kindergarten, and can't wait to graduate to the first grade at the end of the month.
She had a Build-A-Bear party this afternoon. Thirteen candy-crazed little girls came over and had a blast!
The girls stuffed their bears, placed the hearts, made wishes, and Saima and I sewed them up.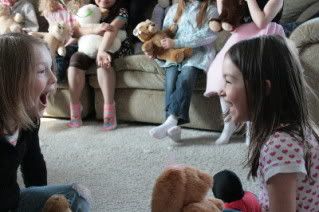 We played three games for the bear outfits. Hot Ladybug (Hot potato), Eskimo Bingo, and Musical Paper (musical chairs). The girls had a blast and laughed for most of the party.
My mom always makes her special jello, a layered jello, usually making about four different colors/flavors of jello. The kids like to hold the cups up to the light to see the layers.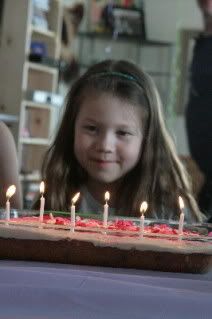 She scored lots of loot, and $40! She's excited to spend it the next time we're in Anchorage.
She told me, right before she went to her nana's, "mom this was the BEST party ever. YOU are the best mommy I ever did have!"
That makes it all worthwhile!