Sunday's are meant for lazing around over at our house. For me, that means sewing or baking. For Dean, making knives. For the kids...watching TV!
Dean's momma left on the afternoon flight, and we had church to go to that evening. So, we really didn't have much planned.
It was the "calm after the storm" in Kotzebue, and it was absolutely gorgeous. I mean, narry a skier was in their home in the dark afternoon!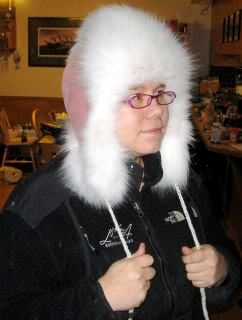 A few days ago, I walked to the school to pick Kaisa up. I thought I was healed, but apparently I was wrong. Since that treacherous walk through the snow filled streets, my foot has been-a-bothering me. I have only today off, so I hope it just decided to GET BETTER. Otherwise...I don't really know, I guess we'll cross that bridge when I get there.
Anyway, I have a few hats on "order" and decided that I'd make one yesterday. My daughter and niece were super excited because the leather was PINK and the fox fur was WHITE. What princess wouldn't want a pink and white hat? Especially a handmade one that was warm and made for our weather conditions?!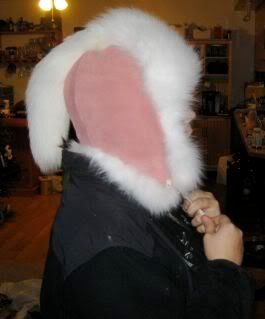 Alas, it wasn't for them. But, both girls tried it on and declared that whenever I made theirs, it had to be the same as this one! (shyeah, right!)
I have a few hat patterns, and I don't like any of them. So, being the McGuyver I am...I made my own. AND I LOVE IT! Rather than that usual three piece back, it has four pieces, and therefore hugs your head a lot better. The top comes down to your eyebrows, exactly where you need it when its fifty below zero! And the flaps are perfect too. I am so happy with my new pattern.
So...an hour and a half after I started, this is what I ended up with.
And it fits her, JUST RIGHT!