The annual Catholic Christmas Bazaar was a hip happenin' place yesterday.
The "uzhe" were there selling away. (usual) Its better than being on Wall Street!
Aside from getting SUPER stuck on the side of the road and having seven men push my car out, it was a grand day! We sold a few knives, and LOTS of jarred goodies.
My table mates were awesome too. Sometimes you get stuck with boring people, or people you don't really know, but I lucked out, and had
Cathy
and Nina next to me. That means when there's a lag in selling, you can talk and talk and talk!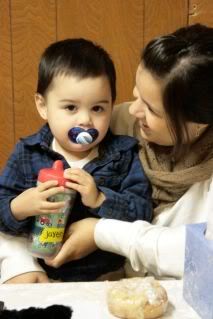 Of course, when you're at a Christmas Bazaar, you end up BUYING something too, and I did...I'll show you later though. Cause I got the DEAL OF THE CENTURY at this bazaar.
I even had to FIGHT with another person for it. I seriously, pulled out the fists and said, "Get your rotton stinkin hands OFF MY _____ before I punch you in the face."
And he did. Cause I'm sort of scary that way I guess.
Pampered Chef, Pelts,
Parky's, and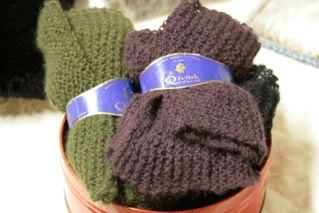 Purple Qiviut!
I've been to many a Bazaar in other places in Alaska and in America, and it's NOTHING compared to our bazaars. Where else can you buy some prints of Porcupines (ewww), Seal Oil for fifty bucks a QUART, a pair of knit socks, a fur hat, new Boots, a Bowie Knife, Encheladas, A skin sewing Ulu, Cookie Trays, Sealskin Mittens, and an Inupiaq Christian Songbook!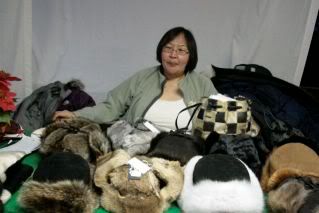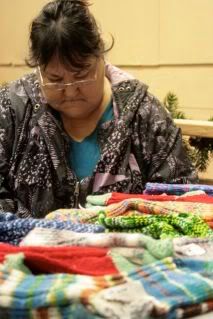 I mean, we aren't selling SNUGGIE's here folks. Or, wait, I WILL be selling Snuggies at the Boy's and Girls Club Bazaar on the 19th. (Sidebar: My daughter got a girls Snuggie and she LOVES it. So, I'm making some to sell!)
I did purchase two handmade ornaments for our aanatuk (poor bare) tree. One Eskimo Angel for Kaisa and one Eskimo with a puppy for Koy. We do get them one ornament every year, like "normal" people do, but they're always cultural. Finnish, or Eskimo. This year...Eskimo. Plus they were only ten bucks!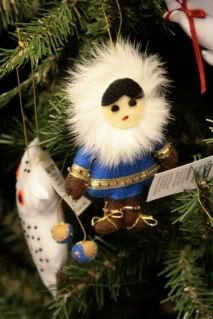 I also bought an Inupiaq Song Book from Judy Stein. I LOVE her. She is so awesome. She used to teach the kids all their Christmas "pieces" so they could get up in front of the church and say it! I am so happy with my songbook, I learned how to sing Amazing Grace in Inupiaq last night...I just sung and sung and sung. I wish I could actually READ music, then I might be even BETTER!
OK...so the DEAL OF THE CENTURY came from this guy...Mike.
I saw him unloading his knives and thought, "uh oh...competition," you know cause Dean sells knives. But, after I scored this baby...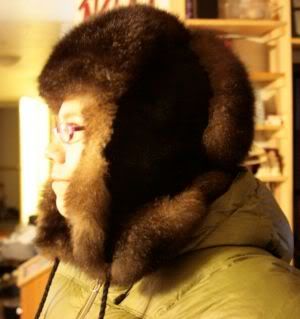 I was OK! I got this hat for FIFTY BUCKS. I mean, you can't even buy LEATHER, and FUR for fifty bucks to sew your OWN HAT! I was so happy. Some guy tried to grab it from my hands and he quickly learned that you don't mess with Maija. I think he felt bad, and went and bought some popcorn balls from us afterwards.
So, I scored a hat, a songbook and some ornaments. We sold the usual, Cookies-in-a-jar, sourdough starter, blueberry jam, cranberry jam, Banana Bread, Cranberry bread, cookie trays and...KNIVES.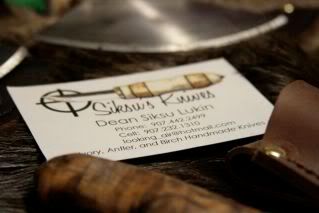 So, Dean now has a WEBSITE! Yay. Finally, its up and running.
SIKSU'S KNIVES
will bring you to the motherland. All of his information is on there, and he posts the available knives daily. If you're looking for a great Christmas Present, I'd suggest a handmade knife, or Ulu. (or a Snuggie, but give me some time to make them!)