...are happening in our house. Huge.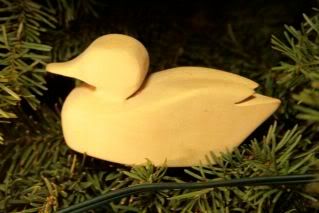 The prospect of owning a coffee shop has been in my mind for years. I've always wanted to own a quaint little shop serving great gourmet coffee, tea, smoothie's with love. WITH LOVE.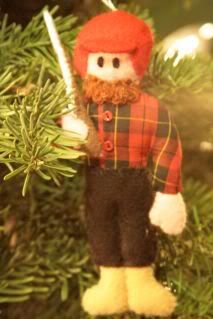 It has teased me for years. I KNOW we could do better than the current place-you-can-purchase-coffee from. Because they are not interested in the coffee, they are interested in making money as fast as they can, can't catch them, they're the gingerbread man. No love. No quaintness, as a matter of fact, its a little smelly in there right now. Ugh.
How absolutely unfair.
But, huge things are happening at our house. First off, I got sick, then Dean quit at Alaska Airlines. (boo hoo) Then started flying for a bush airline, and is on his two weeks "off" but may not be there too much longer either. He lost his father earlier this year and is coming to the conclusion that he might not want to fly anymore. That in itself is huge. He's a pilot's boy, who's only ever flown. Huge things.
As we go through all these trials and tribulations, we just are focused on each other, and our families. We had a wonderful time when the twins visited for Thanksgiving, and now Dean's mother is here for a week visiting. And I'm going back to work next Tuesday, the day of our Company Christmas Dinner. Sigh.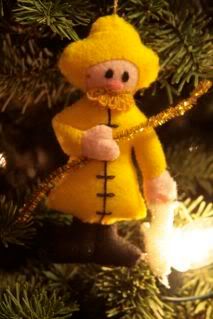 So, I'll just keep praying and hoping I can stick with this positive attitude thing. It's worked so far. I hope it keeps on working! (even though I do have more blisters on my feet and thumb...)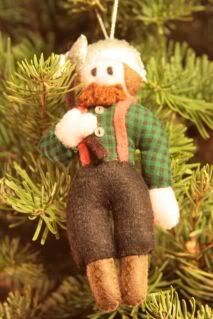 At least our Christmas Tree is up, and it doesn't even look like a Charlie Brown tree, like last years! Although we can't find ANY of our ornaments, which are all handmade or given to us by various family members. No Finnish tree star to go on top, no seal skin ornaments my children worked so hard on, no silly 1st grade toothless photos glued onto Popsicle sticks filled with glued on buttons, and no grandma's cross stitch ornaments this year.
But we have a few from Grandma, and a few stragglers we found here and there, so we're happy.