There are a few blogs I love reading every day.
Its my Cup of Coffee. I have to laugh and cry with them, or else I feel like I'm missing something. Maybe I have to read them to reassure myself that I"m normal...in the most obtuse sense of the word!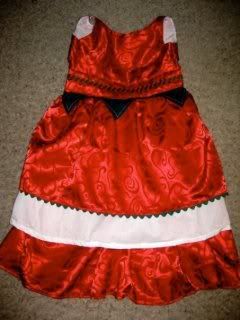 Kaisa's Christmas Dress, made in about an hour...no more tree skirt, but a beautiful dress instead!
I love reading about baking and
raising triplets.
Even though I don't have triplets, I do frequently have Kaisa, Clara and Coltrane at my house, and they sort of count as triplets right!?
"Atikluk" Aprons I made before getting on CrackBook...
I love reading about other people's lives both
in Alaska
and not. I enjoy looking at awesome photos and fun house building fun and
how to make my own marshmallows!
So as the air of Christmas is around us, take a look with me into the lives of some wonderful and very
amazing
women who make me laugh, and cry.
Nice and simple!
Then, if you're living in Kotzebue, or plan to visit anytime, come visit me. I will gladly show you how to sew a pair of mukluks, I will laugh with you, and share my patterns and bake with you and share my recipe's...because that's the Eskimo way.
Maybe I like to talk to my Blog friends because I secretly feel like a celebrity, being an Eskimo and eating people's grandmothers and all! ;)