Up here at our house, most of our Christmas Presents are handmade. Last year I made Dean a pair of Wolf Skin Mittens to use sort of like gauntlets on your snowmachine, or while you're dog teaming.
He was ecstatic.
He made me a traditional Finnish Witch Drum out of my perfect calfskin. I love him for trying. I was hiding my upset at the usage of my expensive calfskin that was supposed to be mukluks. Bless his heart!
I made mittens and mukluks and hair pins and sealskin everything.
From Koy, I got a handmade Ulu that he sweat and toiled on. It was perfect!
From Kaisa I got a card made with beautiful things that were found around the house. She "regifted" almost everything for everyone in the house. The thought that went into each gift was priceless.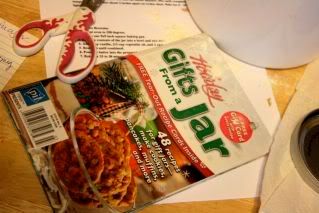 This year, Maddie had a friend over and together, they made "Cookies-in-a-Jar." A very easy gift if you have access to quart sized jars. We don't, but thank goodness we have family and friends who do and bring them to us!
They measured each ingredient and I printed out the instructions. "M&M Cookies, Contents of Jar, 1 stick of butter, 1 egg and 1 tsp vanilla..."
After they're filled with goodness, we put some pretty fabric on top and a ribbon around the lid.
The perfect homemade gift.