Well, when I thought about what happened today, it seemed like a Blah day to ME. But when I think about what it seems like to other people, it might be sort of an adventure!
First, I decided that I needed to FINISH the slippers I started for Dean's mom, especially after she had "slippers" on her Christmas wish list. So, I did.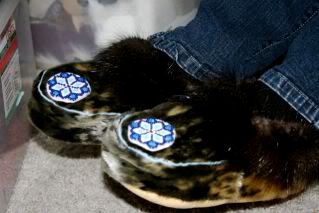 THEN, for Lunch, we had leftover Heart and Tongue Soup. Mmm, the BEST soup ever. Our favorite, the Tongue...it tastes like Patiq (bone marrow), which is ANOTHER favorite.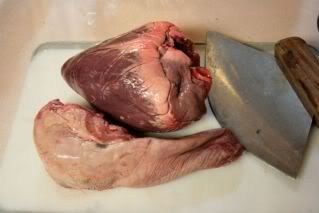 After that, I re-decorated the tree, because we CAN NOT FIND our ornaments. The sweat and toil that people (my kids, my grandma, etc) used while making all those handmade ornaments, is ALL FOR NOTHING. Cause we lost em. I mean, like they're really REALLY lost. Sorry. So, Corina gave us some awesomely beautiful ornaments to fill our void tree! THANKS.
Kaisa's been sickly for the past two days, and she stayed home again. I don't feel so bad, as her teacher said her class had NINE students in attendance today. Nine. So, I'm not the only parent keeping her child home. She LOVES to watch TV, but I also find her sneaking around and reading her books. (Yes, with HER sealskin slippers)
All day today, I've frosted hundreds of sugar cookies. Ugh...I HATE. SUGAR. COOKIES. I love to eat them, but DON'T MAKE me frost them OK!? Cause I won't.
So, guess what? Today, Grandma bought pizza's for dinner. I AM SO HAPPY for Frozen Pizza's!
(Come on now folks, don't forget, I live in the Arctic, so we can't just call our local Pizza Hut. We ain't got none.)
Tonight is movie night for the Lukins. We're watching "Night at the Museum." I can't wait.
See, for ME, it was a totally boring day. I don't know how YOU feel about it. I'm still freaking out that some of my blog friends can pick up POMEGRANATES off the ground and eat them up. I have to pay seven bucks a pop for each of those sweet seed filled globes of goodness. Sheesh.