Quick post today, just to show you that I'm still as busy as ever!
The weather in Kotzebue is about minus 45 below zero right now. My car is cold soaked and "mad" at me for even turning it on this morning. My hands and foot are super cold and aching. I wonder if the weather has anything to do with my healing?
A few weeks ago, I was asked to make 200 "Martha Stewart" type cookies for the Grand Opening of the New Northwest Arctic Heritage Center on the 19th of December (my mom's 55th birthday). Last night I finally made the first batch.
I decided that since we live in Kotzebue and don't necessarily have any sort of "martha stewart" type supplies, that my supplies (thanks Roxy!) would have to suffice. And they did, for now.
I also decided that since it was the new Heritage Center and owned by the Park Service, I would make some animal cookies.
You can see the first batch and the first layer of frosting going onto them now. There are Ptarmigan, Polar Bears, Moose, Fish, etc.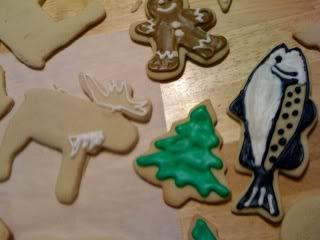 Of course, There will also be the traditional stockings, trees, stars and, my favorite...SNOWFLAKES.
I could spend hours decorating snowflakes. Actually...I DID spend hours decorating snowflakes!