Yet another Christmas Bazaar has come and gone.
I don't know if all the "Annual Christmas Bazaar's" will all have a chance to host theirs here in this town! I mean, we can't double book in a village of only three thousand people!
Kaisa's "My Twinn" doll modeling baby Katak's Mukluks!
So far, we've had the Lion's Club Bazaar, the Catholic Church Bazaar and the Friend's Church Bazaar. USUALLY, we'd have had one at the School, but I guess that was only way back when cool people were at the school and didn't mind hosting throughout a weekend...FOR FREE. (Don't get your panties in a bind now...just start being a part of the community!)
When I look out MY living room window, this is what I see for THREE HOURS...
Since we only have ONE more weekend left before CHRISTMAS, the last bazaar will be hosted by the Boys and Girls Club of Northwest Alaska. I'll be organizing that as part of my community service sentence (just KIDDING!). haha...I'll be organizing as a volunteer, because the managers will be out of town on their vacation.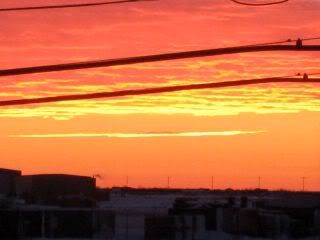 How about you? What do YOU see out of your window?! (unedited photos by Koy)
If you live in Kotzebue and want a table at the bazaar, or just wanna talk to a cool person, contact me. :) The cost is $20 and it'll run from 11am until 5pm.
You'll find mukluks, furs, skins, stocking stuffers, uqsruq (seal-oil), puugmiitaq, jams, jellies, jewelry, makeup, yarn socks, parkies, hats, baskets, knives, ulu's, Christian knick knacks, atikluks, aprons, Chili, latte's, etc, etc, etc...
Musk Ox horn, Ivory and Birch...
As for the Friend's Church Bazaar,
Siksu's Knives
did pretty well, selling all but the two ulu's and the Damascus Knife.
I swear, I sew and sew and sew and make HALF as much as Dean does at these things. I need a more lucrative seller for bazaars, since atikluks, fox hats, mukluks, and cookies-in-a-jar are not getting me the moolah that I need to get the perfect gift! Wait...I'm making all our gifts, and my family reads this blog, so I'm sorry I can't show you photos because then it wouldn't be a surprise anymore. BUT, I did make
Candied Popcorn
and
Cinnabon Caramel Corn
and it sold out in just under an hour. Super simple, and super awesome!
Oh well. When I happen to get rich and get my very own sewing room, instead of having to sew at the kitchen table, I'll sell more than he does! Until then, people will have to settle with what we bring them!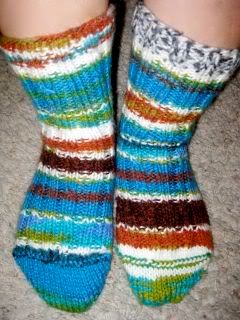 AWESOME...
But I'm happy cause I totally scored two pairs of AWESOME yarn knit socks. I LOVE THEM. They are so ME. Mismatched, and perfect.
On another note, I went to the post office yesterday and got a box that I wasn't expecting. I opened it and was SUPER excited! It was filled with awesome holiday baking goodies! I mean, decorations, cupcake liners, etc. I was giddy with enjoyment! THANK YOU ROXIE!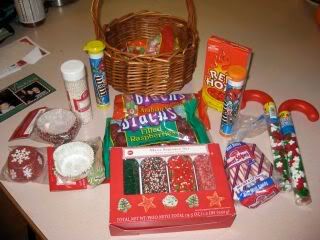 Decoration goodies.
This totally helps, because I have an "order" for 200 "Martha Stewart Type" cookies for the Grand Opening of the New Heritage Center. This will totally help that cause!
Sigh...its great to be loved!