*Disclaimer: This is my own personal opinion...only what I heard from my child. Only what I heard from his friends during the interviews and my feelings because of that. Read at your own risk...
I've written about my son before. His utter maturity scares me. He doesn't lie, or steal or cheat. He giggles when someone cusses. He is yet to find any girls cute, or attractive. He still thinks of them as friends. He likes to hunt, read and play King of the Hill and Free for All.
He's thirteen.
He (aside from some of MY OWN problems) is perfect. When I tell him, "Clean the kitchen and shovel the stairs, you can play out afterwards," he does. But not only does he empty and fill the dishwasher, and wash the other dishes by hand, he cleans the counter off, scrubs the sinks and sweeps the floor, takes out the trash and wipes the cupboards. When I "clean the kitchen" I empty the dishwasher and dishes would be lucky if I rinsed them. As a matter of fact, I doubt Dean or I have washed dishes in months.
He does his own laundry and folds his own clothes. He washes behind his ears and brushes his teeth every day. He talks back, but only to the extent that his sister gets away with...nothing more.
He goes to church regularly and attends every single churches (we have 11 churches here) Youth nights he can. He hunts for is family, for his aana, and our elder friends. He watches with a keen eye and listens with a keen ear. He is brilliant and has skipped one grade so far. If we wanted, we could skip him again, but that would put him at age fifteen graduating high school.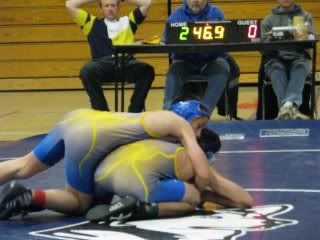 Koy and Tim wrestling against each other...
He loves to play any sports around. He doesn't care if he's any good, he simply enjoys it. He plays basketball, wrestles, runs cross country, skis any chance he can get, loves to play football in the snow, and would do more if more was available in Kotzebue. Its not, so he and his friends make stuff up.
When he sees a kid being bullied, he runs to their aide. The Girls in his class tell me that he is very popular, but doesn't talk much. He giggles a lot and is quiet. They probably like him because he doesn't pay any attention to them!
He is a GOOD KID.
And his friends are the same way. The boys he hangs out with are good kids. They are all the same. Hunters, Friends, Teachers, Pupils, Caretakers, etc.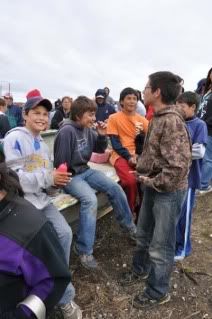 So, I find it hard to believe that anyone could "
accidentally
" hide under a set of stairs waiting, planning an attack on young kids. How could he accidentally wait for three 13 year olds who were coming from a Christian man's home after looking at his traps, and ACCIDENTALLY jump out and tackle those boys, while cussing them out, calling them names and making them feel like they were going to die forcing those boys to hide.
While ONE boy was hurt so severely, all he could do was scream for help.
I find it hard to believe that someone could ACCIDENTALLY hold two 13 year old boys hostage in an entry way, while ACCIDENTALLY yelling "I'll take you out, I'll teach you how not to steal from me."
I find it hard to believe that someone could ACCIDENTALLY break two bones in one leg, bruise up a boy and ACCIDENTALLY yell at him that he was NOT HURT and that he needed to "GET UP NOW you big baby."
I find it hard to believe that someone could ACCIDENTALLY scare young NATIVE boys into thinking that they were going to die because someone ACCIDENTALLY said that he would "teach them a lesson they would never forget."
And I find it very disturbing that the person who ACCIDENTALLY did all of this is sitting at home, accidentally spending Christmas with his family, while One boy is being MEDEVACED to Anchorage three days before Christmas, and that that boys ENTIRE family now is going to Anchorage to spend Christmas with him because he has to have surgery on that leg. And by the way, that boy's family is a family of SEVEN.
And I find it very disturbing (AND YES I AM GOING TO SAY IT) that the attack was by a white male on three young native boys. Someone please explain this ACCIDENT to me, because my brain must be fried if I JUST CAN'T SEE IT.
But, I also find it very heartwarming that the three boys have been closer than ever. They love each other, and fought for each other, while being ACCIDENTALLY beat up. They cried with each other and they laughed together at the hospital. They opened presents together and they talked about hunting when his leg is better.
They were worried about the family of the attacker and how they would feel. They prayed for him, and prayed for their mothers (because we needed the prayer the most I think...) and they watched cartoons together. They told their mom's that they were OK, not to worry.
They are exactly what Christmas embodies. They have huge spirits, and they have even bigger hearts.
They are my hero's and I feel so awful not being more like them.