I have completely valid excuses for hoarding "stuff."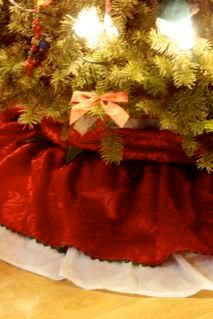 Anyone recognize the "tree skirt?!" Love to re purpose stuff!
I mean, seriously. I went through our over three HUNDRED pairs of socks on my last day off and realized that there HAS to be a better way of matching socks. I mean seriously. I'd rather socks were made DISPOSABLE. Wear once and THROW AWAY!
As for these...I live in the Arctic. Our temps hover around ten below starting next month, and one family can NEVER have too many wool socks. Luckily I have TWO grandmothers who make knitted socks. One who uses only wool and one who uses only acrylic yarn. So, I know who made what!
Seven totes of fabric...fleece, cotton, canvas, etc, etc....
Also, as for the fabric...I like to sew. And I only like to sew when I FEEL like it. And since I live in the Arctic, we don't have a lot of "sewing stuff" around. Whenever I get to a Jo-Ann's fabric, I seriously am like a kid in a candy store. All googly eyes and everything.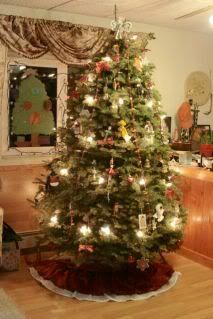 Yes, we have absolutely NOTHING under our tree...hence the fabric out, so I can start sewing Christmas presents, we like to make our presents. :)
I don't mind being a hoarder. Of fabric and socks!