Even too tired to talk in full sentences.
Here's how MY day off went:
6:30 am - wake up. Brush hair, you know, since I got that stupid haircut that isn't such a "wash and go" type of deal. Curl stupid hair. Put clothes on.
Summer clothes, because today Kotzebue hit a record high of 81 degrees. And some of you may be saying, "Oh 81, that's NOTHING..." but try having NO air conditioning, and it being consistently 81 degrees for TWENTY FOUR HOURS. That's right, its midnight and its STILL hot as hell out.
7:30 am - go to work. Yep, that's right, I had to GO TO WORK. But Cathy had called and she was very sick, so I had to come up with not one, but TWO photographers for the Baby Contest I was running, and the Miss Teen, Miss Arctic Circle pageant that she was going to shoot at Nine am.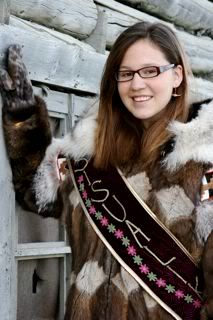 Yep, my sister's running for the PEOPLE of Sisualik! Yeah!
At work - print out baby contest applications, numbers, and judge score sheets. Set up bags, and charge my camera battery.
9:00 am - photo shoot for Miss Arctic Miss Teen Arctic Circle Pageant. We had 8 contestants this year and OUR beauty pageants consist of wearing an atikluk and parka, IN THE 81 DEGREE weather. Seriously. That's how we roll.
10:00 am - pick up mom, and go to her "office" so I could frost a stupid cake. I know, I know, cakes can't be stupid, but cake PANS can. Seriously, it was the most Ghetto cake I'd ever done, but ONLY because we had to improvise due to the ROUND cake pans. It turned out nicer that I had thought it would! (and yes, the wedding was TODAY) Oh, and it was a six tier WEDDING cake, with light blue squiggles on it. I am awesome.
11:00 am - I coordinated the Lovie Harris (in memory of my aunt) Baby Beauty Contest and it's judging portion was TODAY. The babies were lucky to be inside with their fur parkies on. This year, I believe we had 17 contestants.
12:30 am - Baby Beauty Contest PHOTO SHOOT. Yeah. Another one. Seriously.
Chuck. :)
But the babies were all so cute, that I didn't mind one bit!
1:30 pm - back to work finishing that squiggly line wedding cake.
(Sorry no photos, I got the photo's from this morning, and that was it...my computer doesn't like me anymore)
4:30 pm - RUSH home, to make sure Kaisa, Clara and Maddie are ready for the BIG Talent Show at Five. Kaisa and Clara sang the National Anthem (and ROCKED IT) and Maddie sang the Hoedown Throwdown (and YE HAWed it!) for the First Annual Kotzebue's Got Talent show.
5:00 pm - send kids and Grandma to Talent Show, and rush to the wedding. By the way, Elsa was IN the wedding, so she was even MORE busy than I was.
5:35 pm - cuss at the bridesmaid who was late. Oh, under my breath, and it wasn't her fault, but still, I better not miss my kid's singing.
6:05 pm - RUSH to the Talent Show only to find out that the live band we booked (haha, like we have LIVE band's in Kotz. I guess we do now!) was playing until 7:00 pm.
7:00 pm - watch my girls, all THREE of them ROCK their voices in front of about 300 people. They won by the way. Maddie, and Kaisa and Clara tied for first. And not cause they were the only non-pageant talent-ers, but cause they're AWESOME!
9:00 pm - go to the wedding reception to eat...cause I forgot to today. Scarf down a turkey leg and some potato salad while Lola and David are throwing bouquets and garters.
10:00 pm - burp up some food, and forget Kaisa at the reception. Don't worry, my aunt called and said she ended up at her house, and she'd drop her off later. :)
10:30 - realize we had NOTHING for the "People of Sisualik" float and rush to the Borough garage to check on the float.
This skin is still drying. The one on our float looks like this...but is dry!
Yup, the trailer is still sitting their. But, my aunt Siikauraq (Maddie's named after her) and her husband came over when I arrived. In just an hour and a half, we were able to put together a float that consisted of the following: An Ugruk hanging rack with a stretched skin on it, a 55 gallon drum wood stove, an old tin wash basin, some duck decoys, two old wooden barrels, some old heavy metal cooking utensils, a clothes line with clothes on it, a harpoon with boueys, and some old floats used for fishing. Also, we ended up with two nice buckets full of candy. If that's not Sisualik, I don't know what is!
Midnight - go home. See that everyone's in bed and get on the computer. You know, cause I love you guys and want you to see how busy I am! hehe. Actually, I was surprised myself what I accomplished today...so pat me on the back, I rock!
Anyway...tomorrow is another LONG day. Happy and SAFE 4th of July to everyone.