for the kiddos.
July 3rd held our first annual Kotzebue's Got Talent and Big Bad Burger Cookoff, and the 4th of July was filled with too many competitions to name. And every single one had a cash prize.
The kids made out like bandits. And I swear its not cause no one entered but them, but they, like most kids, entered EVERY SINGLE CONTEST available in their age group!
I was always told by my parents that if I wanted to waste money at the 4th of July festivities, I'd have to earn my money. I'm the reigning bike race champ 10 years IN A ROW! Back then, we won a new bike. Now, they give out money.
We told the kids the same thing. If you want to buy JUNK, then win yourself some MONEY!
I'll do a little breakdown: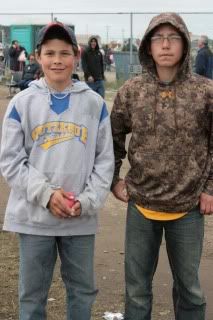 Koy - age 12:
1st place, water balloon toss - 16 and under, boys: $30
2nd place, foot races - 11-13 boys: $20
3rd place, bike races - 13 and under, boys: $10
TOTAL: $60
Maddie - age 10
1st place tie, Community Talent Show - $25
2nd place, bike races - 13 and under, girls: $20
TOTAL: $45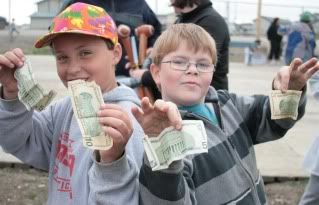 Max - age 10
2nd place, Animal Calling Contest - $70
1st place, lip sync, group - $30
TOTAL: $100 (yes, seriously)
Kaisa - age 6
1st place tie, Community Talent Show - $25
2nd place, foot races, 6-7 yr old girls - $20
TOTAL: $45
Clara - age 7
1st place, Community Talent Show - $25
GRAND TOTAL for the KIDS: $275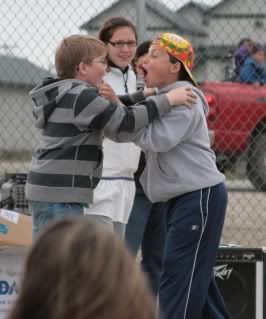 Now...let me tell you, that I have NEVER, EVER wished I had my little camera (the one that takes movies) more in my entire LIFE than I did when we were watching Max and Ben Lip Sync Jump 5's, "I got the music in me."
Here's Dean and Trish, little embarrassed? I thought it was GREAT!
IT. WAS. AWESOME. I mean, just awesome. They met up about five minutes before to agree that they would do a duet to some song Max hadn't even heard of. Ben is THE performer of the year, I'd say.
The girls lip sync-ed (lip sank?) "All the Single Ladies" and had a great routine, but Saima wouldn't let Clara Dawn help them, for God knows why, so they were a little messed up in the beginning and ended up improvising and just dancing around the stage with each other. There's always next year for them though.
Like I said, in all, it was a GREAT day. Our Float we worked hard on won first place in the Individual Category, so we were happy about that. Although...we've never lost the Individual Category. Oh, I think we also won, "Most Traditional" too.
The Northwest Arctic Trade Fair "Qatnut" is scheduled for Monday and Tuesday, and we have hundreds of people arriving today and tomorrow morning for two days of Eskimo Dancing, Eskimo Games, Food contests, Fur and Cloth Fashion events, and a Community Potluck.
Dean and I are entering the Traditional Foods Competition, with Sourdough Bowls and Seafood Chowder, and Smoked Chum Salmon caught right outside. And he's entering a couple of his knives in the Arts and Crafts Competition.
So...hopefully we'll get some extra cash too to spend on cool things like a new sewing machine!