We're in Palmer today to drop Kaisa off at Camp Li-Wa with her friend's Emily and Gage. They're here for a family reunion and will drive back up to Fairbanks with her tonight.
She is VERY excited. VERY EXCITED.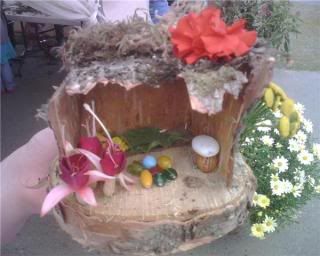 So excited, that when we were on the plane coming here this morning, she had fallen asleep. When I asked the flight attendant to wake her up, she jumped up and said, "OH, did we miss EMILY??"
Prior to her Bible Camp/Horse Camp adventure, we stopped by the Arts and Garden Festival at the State Fairgrounds where the girls all super enjoyed making Fairy Houses (FOR FREE!) out of garden/woodland type items. Sticks, bark, moss, flowers, feathers, beads, etc. You name it, they used it!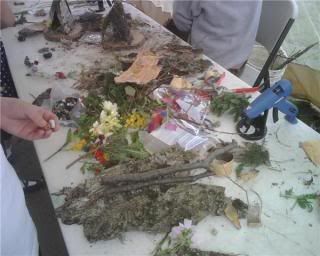 Grandma and I enjoyed walking through the various tents, taking pictures of things "we could make" at home. You know, "when we have time!"
I remember being in Chickaloon, and my grandpa would cut disks from logs, and I'd make smurf houses, and villages. Watching the girls pick their flowers, and sticks and bark beds really brought back great memories.
Here's to good memories, and little kids making their own.