So, Tuesday Kotzebue had a "special guest" arrive to sign into law a bill that states that in a region with less than 10,000 people, a borough government may oversee the VPSO program.
A VPSO is a Village Public Officer for those of you NOT from a village in Alaska. In a region the size of the state of Indiana, we have only 6 State Troopers, all stationed in Kotzebue, and one wildlife trooper who flies and patrols all day. (...among other things, he happens to be my partner-in-crime's hubby. )
Leader of the Kivalina Qinugan Dancers
who is also a whaling captain! The bracelet was a gift from Siikauraq Whiting, the Borough Mayor...it is made of Baleen and Ivory.
So, the troopers, obviously with a land mass this large, need some help in the villages...so they employ the VPSO's. Now, in theory, it seems like a great idea, but when you're 25 years old and in the village, the same village you, your parents and your grandparents grew up in, being a security officer is a little tough.
"Ohh, is it real?" "Oh Yes, its real Jade and Ivory...and VERY heavy!"
Your house get's egged, and your dog's get shot sometimes. Its a dirty job, but someone's got to do it. I believe Kodiak Native Association was overseeing the program, but its hard to have employees 800 miles away...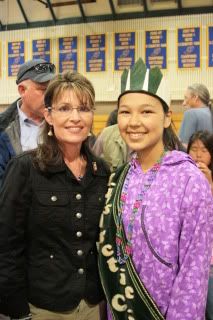 Miss Arctic Circle, Allison Wasuli and Mrs. Alaska, Sarah Palin
So, on to our guest.
None other than the hottest governor in the country,

Sarah Palin
came to visit. She arrived in high fashion, on the hottest day of the year sitting in the back seat of a Trooper vehicle. You know the back seat, where the convicts sit. It was mildly funny.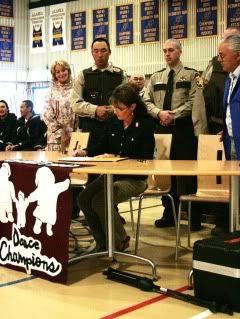 Signing the bill into law with VPSO's from our region standing "guard" in the background.
Don't get me wrong, I actually LOVE Sarah Palin (as a PERSON) and that is the end of my opinion about her. I love that she hunts, and she loves Eskimo Bingo, and she thinks wrong is wrong.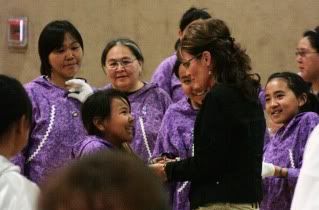 Mingling with the littlest people.
I love her daughter Bristol, and her daughter Piper (same plane as me!). I haven't met Track, or Willow, so I can't say much about them. And her husband...let me just say, he looks THAT good in person too. He's generally just a great guy.
She loves to Eskimo Dance too...
Anyway, since she is still the Governor, she came to Kotz to sign the bill into law so our Borough could take over the VPSO program.
"So, I played basketball in high school too..."
The best part of the entire three second bill signing?
My aunt Siikauraq (who happens to be the Borough Mayor), told her, that she was good at basketball too and would LOVE to take her (Sarah) one on one in the gym if she was interested!
"So, you wanna play one on one?!"
And, She said, "Let's go!"
Gotta love small towns!