And not the type you're thinking of (sickos!).
Every year when the twins come to Kotzebue, we start the summer with a huge birthday bash, inviting 30 kids, having scavenger hunts, and the sort. Consider it a "Welcome Back" party. Luckily their birthday is at the end of May.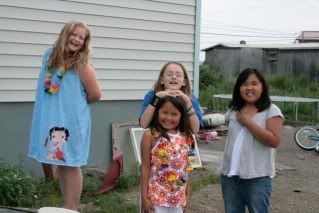 Every year when its time for the kids to go back to their mom's, we have a BOY's Night/Girl's Night out. The boy's either pitch a tent in the yard, or take a boat to camp, whatever they feel like that day. (You know cause boy's don't have an inkling of pre-planning skillz!)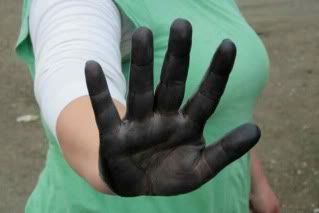 The girls (Maddie, Kaisa and our "other kid" Clara) spend most of the summer planning the party. This year, Kaisa was with her dad, and the kids are leaving a little early, so Maddisen and Clara were the master planners for this year's bash.
They decide what we'll drink (Shirley Temple's), eat (homemade pizza), do (tie dye shirts), watch (13 Going on 30, Juno and Legally Blondes), and sleep (in the living room under a blanket of blankets!).
They make invitations, hand them out and giddily wait for their friends to arrive. This year, they invited about six people, and three showed up, due to other obligations (and it had nothing to do with the fact that I asked them FRIDAY afternoon if they'd handed out the invitations and they both exclaimed, "WHAT? OOPS!!!" then went on their way to stick invites in doors jambs!).
Five was a perfect number. They tie dyed shirts to their hearts extent. Since we bought ten shirts, they were able to make two each...experimenting with hearts, snakes, etc. Maddisen was sure to make a shirt for Kaisa (SUCH a nice sister!) so she didn't feel left out.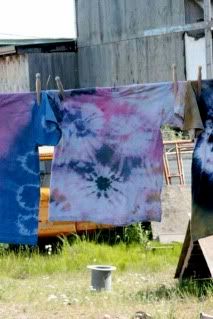 After massive amounts of Eskimo Bingo, Girl Scout Cookies and Shirley Temples, the girls FINALLY (hey, I'm OLD) started to settle down to watch movies (at ONE AM!). I was able to get to bed near three and the girls slept soundly all night.
Let me just tell you...Waking up is hard to do!