When I was a child, my toys consisted of whatever scrap wood and nails I could find, some plants, and as many cardboard boxes as my crayons could cover.
Sure, I had a few plastic toys, mostly savored McDonald's toys my grandma (or aunts) allowed me to grab when I was in Anchorage visiting them...a few dolls from birthday parties, and some homemade barbie clothes I made.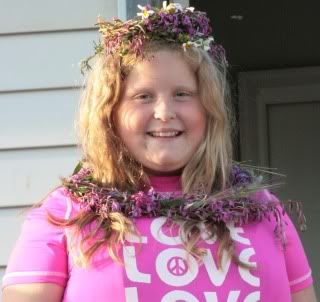 We didn't have a lot of money, but boy did we have lots of imagination.
I had smurf houses, and barbie castles, and dream play houses that were destroyed by the rain, flowers dying, and wind blowing. But that was OK, I simply made more.
When I was in Anchorage, a stick of chalk was my best friend, and the driveway (with REAL cement) was my canvas. My all time favorite thing to do was to pick Daisy's and paint the petals, attach a pin to the back and sell them to passerby's. I think a quarter a pin was the asking price, and I felt RICH when I had amassed 75 cents.
In Kotzebue, tourists lined the streets with their fake fur "parka's" and their 35 mm cameras. I was a little on the lighter side of Eskimo as a child, so apparently it was fascinating to them to photograph a little white girl Eskimo who knew the language and dressed the part. I made a lot of money with my cousins selling stinkweed bouquets, and daisy garlands.
We slaved for hours before the tour busses came and made garlands, crowns and "fly swatters" to sell to the tourists. We charged a quarter or more for them to take our picture next to our puppies, while wearing our atikluks and mukluks! It was always enough to enjoy an ice cream from Dairy Queen, or an otter pop from Papa Joes!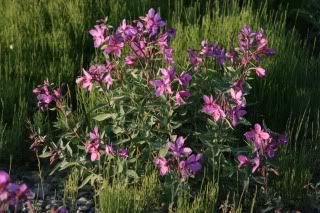 When I look into the rooms of my children, I see plastic doll houses, manufactured in China doll clothes, JC Penny bedspreads, and just thousands of little plastic toys. I see nothing homemade, nothing requiring imagination to build, THEN play with.
This is probably why I torture myself with animals and other stuff like that. I'm trying to make my kids more responsible for things.
"WHY SURE, we can get 12 ducks, I mean...why not!?"
"Yeah, lets get ANOTHER DOG even though we live in the Arctic and they need to be run everyday!"
"Yeah, bunnies? NO PROBLEM!"
See...torture.
So, I did what any other parent would do...I told them all they weren't allowed to play with anything that was bought from a store. :) "WHAT?!"
Yeah...I said it. And I meant it too. From now on, if they wanted to play barbies, they better walk to AC, get a cardboard box and make a castle for them. If they wanted to play in a play house, they better find scrap wood and carry a hammer around to build it themselves. IF they wanted to watch TV, they better go to Aana's...(that's what I used to do!)
So, after many minutes of moaning and groaning, the girls and their friends decided they'd make some Daisy garlands and flower crowns. (after I gave them a list of ideas!) They biked around town, hunted for flowers, and simply played for HOURS. They talked about being princesses, and mothers and selling their flowers in a "flower shop!"
It was so wonderful to hear, I even ran outside to show them what I used to do, and my version of making daisy necklaces! It simply brought me back to my childhood.
And then I went back into my house and saw all our junk. Ugh...baby steps I guess!