Or not so fast, whatever.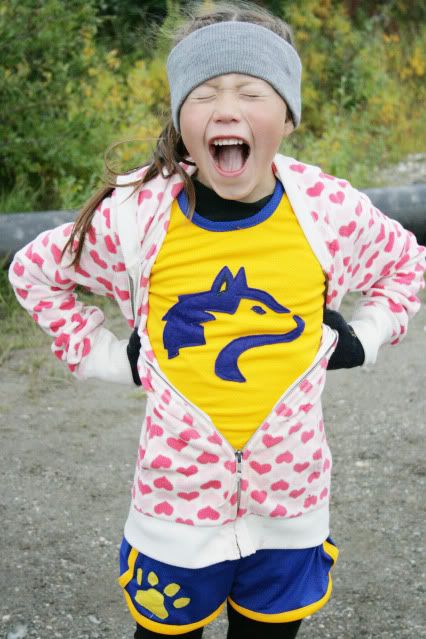 Not to be confused with the movie
"Fast Runner"
by any means, except that maybe we can understand the words without the subtitles, oh and we're native, but other than that, no correlation!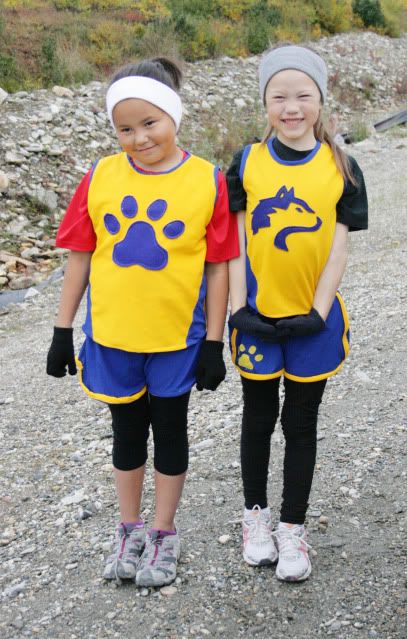 So, my girls. My girls. My girls. My girls. They were so excited to be in "forty fourth and forty fifth" position in the Cross Country Running race on Friday. (They failed to mention that there were forty five finishers of the race... but there were forty eight or nine entrants, so I guess technically they didn't get last!)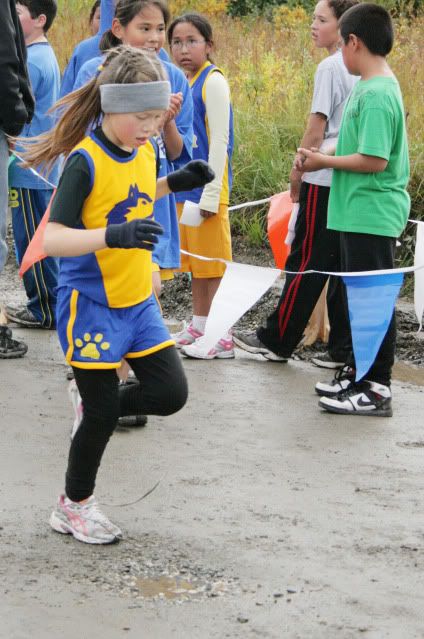 Their plan was to run together and at the VERY last stretch, hold hands and pump their fists in the air while yelling, "Whoooo HOOO!" over the finish line. Kaisa said, "Yeah, my mom will take our picture and put it in her blog!" Then, she chickened out and ran away from Clara.
Unlike
Last Year
, this year, she was READY! And they both got brand new Cross Country uniforms, courtesy of me. I tried to get Clara NOT to wear the shorts, but she insisted. Sigh.
After the Elementary kids race, the high school girls and boys ran. This was my son's worst race of the year, but he said his knee was hurting prior to the race, and he forgot his spikes. And pretty much, we have no trees, and I think its sort of mental, cross country racing. He likes to run in the trees. He says that running in the trees is much easier because you can't see how far you have to go. But, there is still three weeks into the season for the boys, so he's confident that he'll do well during practice and the rest of the season! (You have to have one bad race eh?!)
Baby Noodle stayed to watch ALL her cousins race, even though it was pouring rain. She slept most of the time, but made an appearance after the kids were done and was passed around to all the welcoming arms of spectators while Elsa and I screamed and yelled to the Husky team!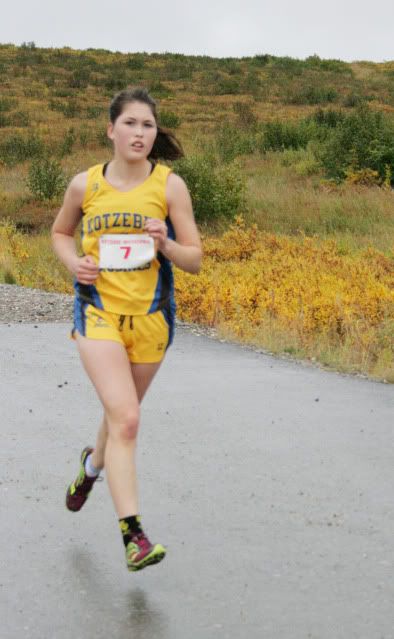 AND continuing on with Sewing month. I made this for Kaisa yesterday. (And sewed a fleece liner into a wool jacket for a friend of mine)
And she was more than happy to wear it today! (Yay for sewing month right!)