...but ran right back again!
Saturday morning our house was filled with complaints and excitement. The sky had opened up and the rain poured buckets. Our tin roof left little to the imagination about just how hard it poured.
And we had fifteen minutes to get ready and meet on cemetery hill.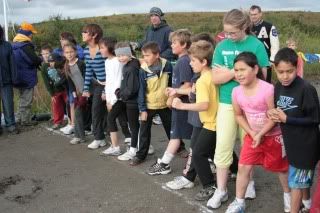 ready...
Kaisa braved the elements and put on her running gear. She put on an extra pair of fleece pants, and a pair of squeaky rain pants over those. She wore a long sleeve t-shirt, under armour cold-T shirt, sweatshirt and matching squeaky raincoat over that.
set...
As we made our way up the hill, her excitement turned to anguish, and she complained that it would be too hard. She didn't see anyone she knew, and simply, she wanted to just go home. "Momma, we could just go together..."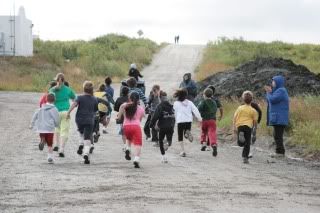 GO!
Once we were up there, the sky opened up and the sun shone down! Everyone out there knew it would be beautiful for the kids races...because, how could it not be!?
The kids lined up at the start/finish line for a grueling 1 mile race UP a hill, then back down a hill. REAL cross country running, no pavement, running through the tundra... well, not really, but it was a hard course for the 1-5th graders!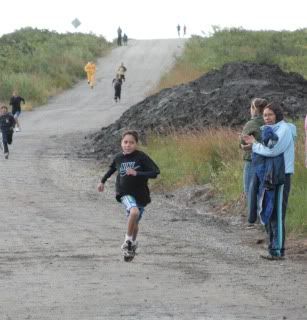 The coach talked to them all at once, making sure they remembered to start SLOW, pace yourselves, don't take off like a bat outta hell. Oh, I added that last part.
When the order was given to "GO!" they took off like rockets out of an empty beer bottle on a redneck fourth of July. And thirty seven steps later, half of them were walking!
The older, faster kids showed up first, followed by the younger, and younger kids...then at the veeery end...here comes Kaisa! Dancing her way down the hill. Running a few steps, walking a little more. Smiling the entire time.
She smiled her way through the finish line. It was beautiful!
Good job baby.