Technically, its not MY house, but rather one of the THREE houses my dad built for my mom. But, since Dean and I are the only ones frequenting it lately, I'm going to call it mine. For blogging sake!
Yes, my dad built my mom three houses. One in Kotzebue. One in Sisualik. One in Chickaloon. So, now she has a choice of where she wants to be. I like my dad, he's pretty cool like that. (*Dean! Dean, I'd like a house in Sisualik too!)
So, onto the Sisualik house. When I was little we stayed in a canvas tent framed in with 2x4's and plywood. My sisters and cousins and I used to vie for the bed frame so mice didn't run across our sleeping bags at night. Or we would simply put up one of many tents outside and sleep there. Because we could zip out any mice, or squirrels or porcupines. (But I would still try to sleep in the middle of everyone!)
The house has one bedroom with my mom and dad's old queen sized waterbed filled with foam pieces. Perfect for a stiff back, nice and hard. Especially in the winter, when you arrive and its 15 below zero and you have to sleep in that bed after warming up the house for only an hour. On the side of the queen sized bed is a cot with a memory foam mattress on top of it. It used to be Koy's bed when he stayed at camp with my parents all those summers. Now, it holds the many guns we bring across each trip. And dirty clothes. It holds dirty clothes too.
The kitchen is an open bottom cupboard design with some floor tile on the counter. My mom says that once the floor tile gets dirty, we just take it off and replace it with a new one! She's smart that one. The kitchen is also host to the water buckets next to the stove. A propane oven that heats our food in the dead of winter.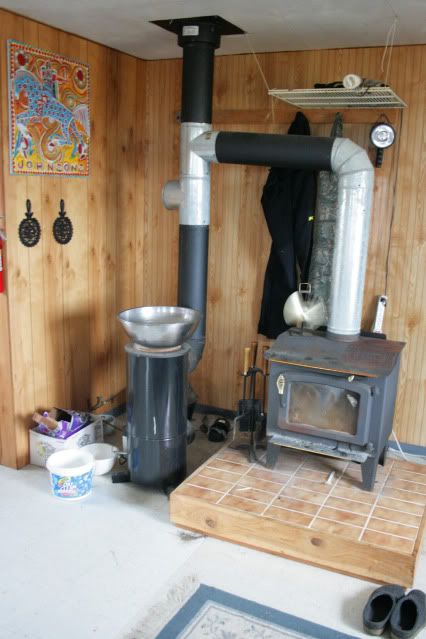 We have two sources of heat in the house. A wood stove that continually burns driftwood and logs cut from trees forty miles away. And an oil drip stove that has not been used frequently. But maybe this winter it will be used to keep the house at LEAST at 45 degrees so it doesn't take four hours to heat up in the winter time! We like to watch the fire channel on the wood stove.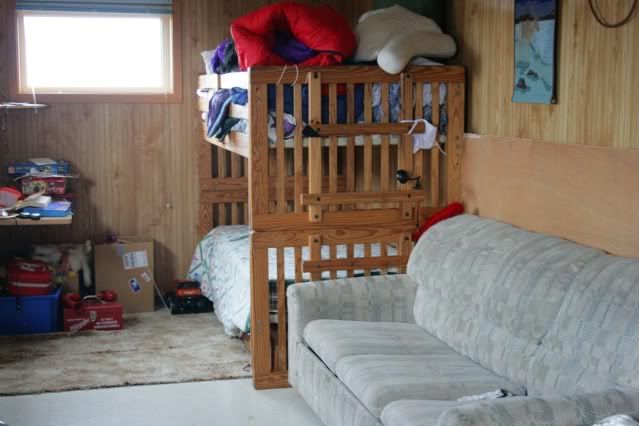 The kids have their own "bedroom" in a twin bunk bed pushed into the corner of the "living room" area. It measures two pieces of plywood wide and long. That's how I measure, plywood from the ceiling.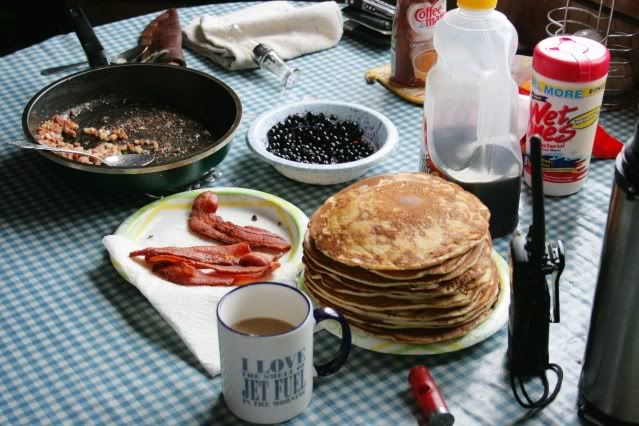 Our table is the one that was at my first low-income housing apartment when Koy was just a baby. I remember the table clearly. Sort of bowed in the middle with plenty of memories of my baby son when it was just him and I against the world. We won. And the table went to camp. It's a good table.
We also have something that not many camp houses has; a bathroom. An actual room for the honeybucket, or port-a-potty with the Winnebago Enzyme treatment and my dad's draft hole, its not too bad. Except for the one on Honey Bucket duty. Which is not me. In the winter, I am very grateful for the bathroom. That means I don't have to go outside in the 20 below weather to use the bathroom in the outhouse about a half mile away.
Not quite the Arctic Entry, but our front door anyway!
The arctic entry of our house is the actual plywood frame that was once our home. I sometimes sit in the Kunnychuck (entry) and wonder how four people fit in there every day with no bathroom, no kitchen, no appliances. Only books, a bed frame and a wood stove.
It's my other home. And I love it.