Yay, thank President Reagan for National Sewing month!
Actually, this only has about six or seven actual stitches, but still. I sewed right?! Here's what I do when I find that my child has either broken, lost or given away all her headbands, and we are running out of hair-do's for the week. (Because I get up, brush her hair and fix it EVERY SINGLE DAY. And tell her the same thing, "It hurts to be pretty." hahaha.)
So, for those of you like me, who have several (hundreds) square feet of leather hanging around, I thought it would be nice to make my daughter (and I) a headband out of the stuff.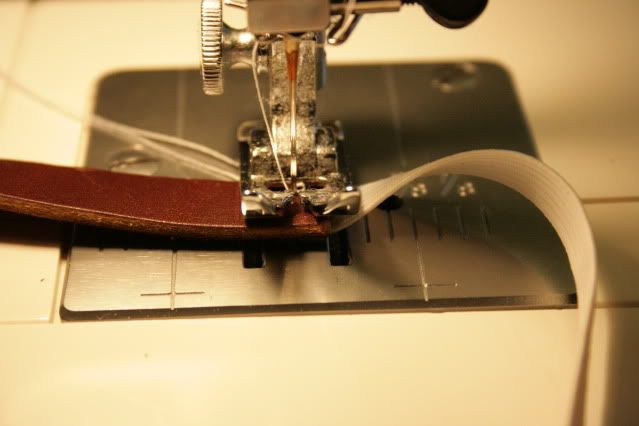 I simply took a color of leather I liked, brown in this case, and cut it into a 1/2" strip about 3/4 of the circumference of my girls head long. (Or you could just GUESS like I did. I don't measure, I just have faith!) Next, take a 4-5" strip of elastic and if you have a tough sewing machine, like I do, sew it onto the leather.
Make sure you go back and forth a few times, so you have a nice tight stitch on your elastic. (If you don't have a sewing machine that will sew through tough cow leather, then simply hand sew the elastic on.) Repeat for the other side of elastic.
Plug in your high-temp glue gun and once hot, glue a wiggly strip on the backside of the leather. I use high temp, so the glue really gets down into the leather backing and does not cool down and peel off. This is simply to give the headband a grip on your child's hair.
Let the glue dry and cool down. Place on your daughter's head and say, "Wow, you're SO pretty!"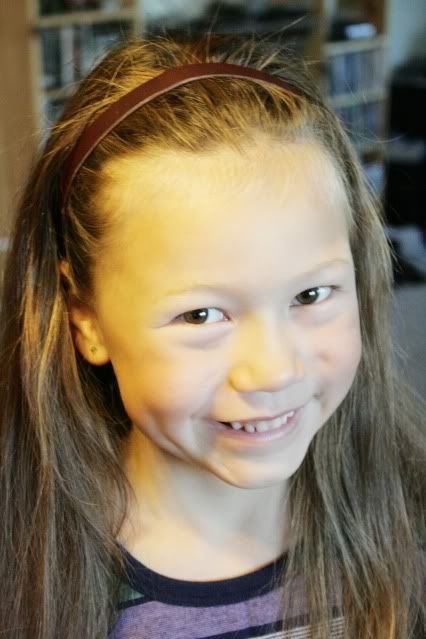 And watch as she smiles at you with her beautiful sleepy grin!
*And then if you have lots of leftover sealskin scraps, like we do, you can add a cute little circle onto the headband too. It sort of reminds me of Couture Eskimo Fashion! I think I'll add a sealskin flower to Kaisa's after school. (
Anyone want one? I'm thinking of opening an Etsy shop with an emphasis on modern Eskimo accessories. Hello Ivory Earrings!!
)