Yay for Sewing month!
Yay for Fridays!
Yay for three day day weekends that start off with all your kiddo's running at the Kotzebue Home Meet for Cross Country!!!
So, the middle school and high school, they have uniforms. The elementary school? Nope. (But we ARE working on that!)
And since its NATIONAL SEWING MONTH, and I have seven totes full of fabric, I thought...maybe I could make a cute top for Clara and Kaisa. (
I just SO happened to have both BLUE and GOLD mesh material in those totes!
)
THEN THREE HOURS LATER, after ripping seams and deciding that I was going ALL OUT, cause
I'm that mom
I had two done.
So, Clara wanted a husky paw, and Kaisa wanted a husky face. I did what any other determined parent would do. Got some blue felt out of my stash, and got to work pinning the crap out of that stupid husky logo and sewed it on!
But I ended up with two VERY cute mesh running tops, and two VERY ugly pairs of shorts that I hope Clara decides not to wear. Although, she says last night, "Stop laughing, I LIKE THEM!" So I tell her, "You don't have to wear them babe." And she says, "I'M GONNA."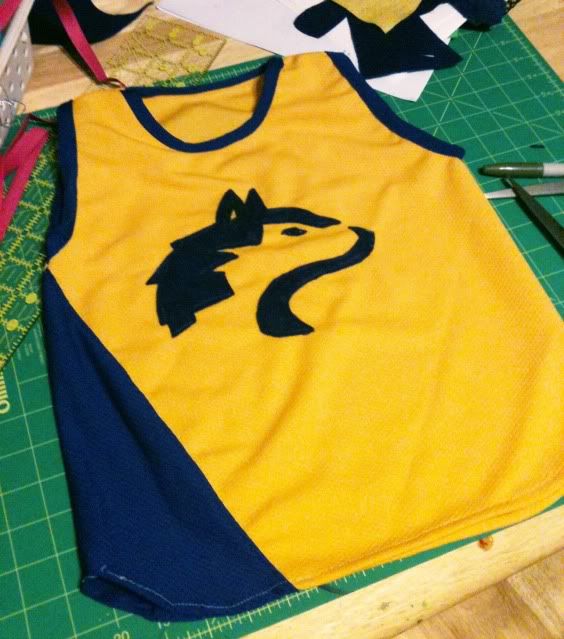 Well, if I can fix Kaisa's blue shorts at lunchtime, then she'll be wearing them too. But I won't post pictures of the atrocity that happened last night here! haha. So I'll post a picture of what my floor looks like after Hurricane Maija hits it with the sewing machine.
GO HUSKIES!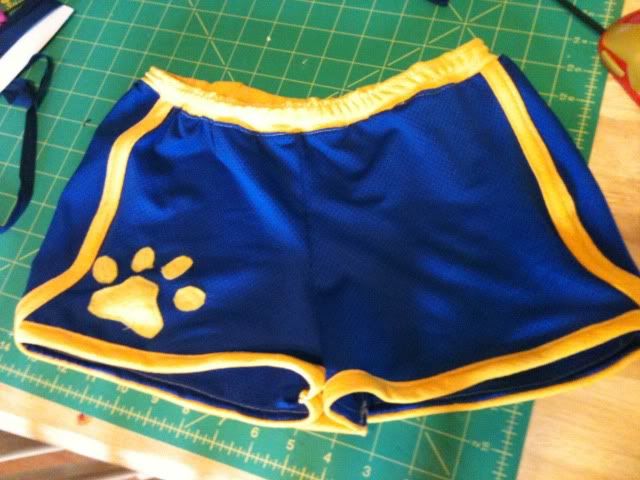 *Edited to add: I totally went home at lunch and rocked the shorty shorts! YES!!! YOU AIN'T GOT NOTHIN ON ME SHORTS!!!