When you have four kids, two dogs, a slew of ducks, and ten thousand mosquitoes, you're never REALLY alone. But today, for the first time, probably, EVER, I'm all alone!
When we were poor, I used to play with bluebells, and they were my smurfs, I made houses, and toys, and boats for them. My best friends bluebells.
My husband, and ALL the kids are gone. Koy is at camp Sisualik with the local tribe, Kaisa is now in the hands of my parents, going to Chickaloon, Max and Maddie are on their way to Ketchikan for a wedding, and Dean is in Anchorage on a grocery shopping day-trip.
The best place on earth. The New Cabin, which I was informed was now called, "the Cabin!"
Since I'm self-proclaimed co-dependent, I stayed during lunch and updated Facebook, sent a bunch of coffee smiles, and checked out blogs like a mad man!
The Commie Cabin. Don't know why its called that, only that its the name!
Off to internet browse!
Oh look, a pretty gold chain with a heart/peace sign/bird hanging from it. Oooohhh, glass dominos. Yep, I need a new pair of jeans.
(Even though it is actually 70 degrees outside today) (Which, by the way, means that for 24 hours, it will be this hot...take THAT!)
My parents new Mansion. Log Cabin built one log at a time. Cut, scraped and milled by hand. Man, my dad is GOOD.
I guess tonight, I'll test out a bunch of recipe's for the Food Competition in early July. My co-workers will be happy tomorrow when I come in with Blueberry Coffee cake, Seafood Chowder, Seafood Ciopinni, and Monkey Bread!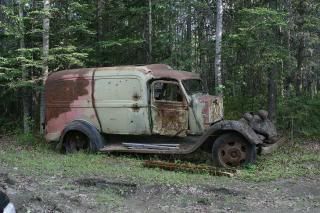 When you enter Chickaloon, you'll be greeted by this awesome truck.
It'll just be Dean and I for the rest of the week. I wonder if we'll get ANYTHING done.
My bear Bigfoot. When I was four, I was VERY worried. "What if some ugly little girl comes and plays with him?" My dad said I would be the ONLY Ugly little girl to play with him, so I was OK after that. And he still sits in the same place he did when I sat him there 28 years ago.
What do YOU do when you're home alone and don't want to clean/read/watch TV?!