Well...Ketchikan at 5:30 in the morning ain't all its cracked up to be... Yesterday, after a FULL day of ... Float Plane Rides: Koy, Kaisa and I had our first (and last! hehe) float plane ride in Papa's favorite Beaver on floats. I wasn't too impressed, especially when we started bumping around in the air, and the 15 year old kid flying didn't know exactly where he was going.
The REAL Lukin family.
OK, he wasn't 15, but looked it. Good genes I guess!
"Fred" the crab. He lived a long and happy life.
We took a trip to Papa and Gramma's old cabin out in Chomley, to spread Papa's ashes. We were out there about an hour, and really did enjoy it.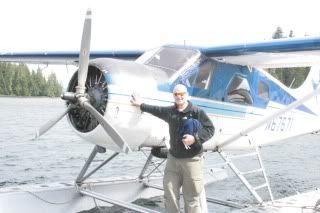 Dean and Papa's last flight in a Beaver. Don't worry, he did NOT put Papa in the floats!

After the dizziness wore off, we were to be at a picnic at Ward Lake, where the kids could swim, and the adults could hang out and talk about life. Swim, they did, until of course, they found out that in most lakes, some inhabitants include LEECHES! The girls screamed and ran out, only to find that a few had wiggled their way onto their feet. Ick.
Pre-Leeches photo!
Once the screaming and running around had passed, we were able to eat a bit. The six kids we had after the picnic were able to take showers at a friend's house, cause we ran out of water at Chucks.
At around ten or so, we had to get all the kids to bed, so Dean and I could be out at the docks at SIX AM. Seriously...six. I thought to myself, "WHO gets up at six in the MORNING?"
Apparently MANY people in Ketchikan! The cruise ships run the town here, and since three were docking at six thirty, a thousand people were up. Even Chuck was gone before we woke up at five thirty. Of course, NO coffee shops were open though.
Girls laughing it up, again, pre-leeches
Dean's always talking about fishing with idiot sticks, and fishing for Kings back "home" in Ketchikan. So, we were able to take a fishing charter out today with Lorraine and Robert.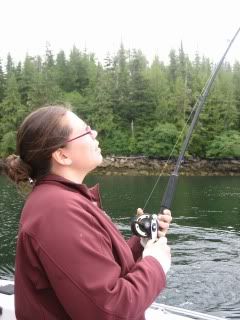 Here fishy, fishy, fishy...

I did manage to catch my first King Salmon, which we're planning on eating a bit, and canning the rest for later. $126 later, we really only got one. Our yearlong hunting and fishing liscenses ARE paid for, but this damn state's gonna make me broke just so I can eat a King Salmon. Ugh.
Hubbs.

Better not complain though right?! At least I CAN fish... Oh and, remember Friends don't let Friends Eat Farmed Salmon...only fresh Alaskan Seafood please! :) Don't have any? I'll send you some as long as you have an Alaska Airlines Cargo place near your home and you're willing to pick it up. I still have Copper River Red's and some Kotzebue Chum. Oh, and now a King.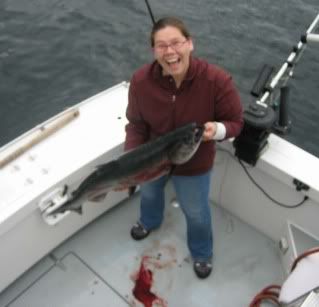 Please excuse the fuzziness, my husband is not the photographer in the family!!!
This was about a 30 lb King. :) MMMM...good eats.
Long days full of adventure are gone, so I think we'll head south for a bit. I'm gonna check the weather in Seattle to see if we can squeeze a trip to the water park in before we head back north to SAVE ELSA from our ducks and demonic dogs (
www.finnskimo3.blogspot.com
). She needs help! :)