When you have nothing else to post, talk about your family! Since all my kids are gone, and all my husband wants to do is smoke and can fish, I have my sisters to fall back on!
They're my biggest fans, my toughest critics, my place to vent, and my reason for venting.
They're my sisters. They, and I have a real knack for saying,
I LOVE YOU
and
I HATE YOU
in the same sentence, I'd seriously kill for them.
Both my sisters have been involved in fights, growing up, where the fight-ors have said, "My dad/brother is gonna beat you up..." And simply with the answer, "Well, I'm going to tell my sister..." did the fight-ors subside!
I mean...I'm THAT good! haha. I got their backs. And really, come to think of it, I've never been in a girl fight either, but only cause I have some wicked words and a fast tongue did they stop.
My sisters, no matter how overeggagerative, and annoying, and spoiled they are...are my BFF's. They are my arch rivals, and my ultimate frenemies! We fight, we're jealous, and we love each other no matter what.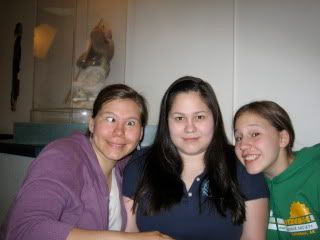 I believe my sisters shaped my identity even more than my parents did. They made me a caregiver at a young age, they worried me, they annoyed me. They showed me ultimate and unconditional love.
P.S. Never leave your new digital camera next to the couch, when your sisters are at your house alone. Because when you try to take photos, your memory stick will be full of photos like this one.
I wonder why we compete so much.
I have ducks and you have chickens. Maija, Elsa's not keeping your house clean. Elsa, Saima's talking trash about you.
Maija, Saima's coming into your house without permission.
Saima, Elsa's a witch.
It's a darn good thing that I have four kids, and Saima only has one. Elsa (THANK YOU ELA) has NONE. Cause we'd compete even more.
Anyway, I'd suggest hanging out with your sisters more often than not. When I left at age 18, my sisters were the only people I missed...and couldn't wait to get back to.
So...if you have sisters, I'd recommend calling them, right this very moment, to just say, "HI!" And do it quick. You know, before your sister does!