Boo Hoo:
Weather for Kotzebue, AK:
-28°F
Current: Mostly CloudyWind: N at 0 mphHumidity: 73%
This is why Hawaii was SO appealing to us Northerners! We come back to find our house wasn't cleaned by the maid that comes daily at a hotel/resort, our food is not cooked in the morning for a continental breakfast, and the weather is so awful, our dogs don't even want to go outside to pee!
Ah well, the blissful vacation has ended. It was just what we needed though, so we are really happy to have been able to go.
We started the last day packing and taking a taxi to Wal-Mart to see if we could find an inexpensive carry on size suitcase, because we had doubled our clothing and supplies! You can't go to Hawaii and not come back with Macadamia nuts, chocolates, coffee and some souveniers from ABC Store! :)
We spent most of the last day walking around, nursing our blisters and sunburn, the sun was not out, but it was still warm out. We decided to hang at the Hilton Hawaiian Village for the day.
Waterfall at the Hawaiian Village
The Hilton Hawaiian Village is a resort area, timeshares (vacation homes) hotels and condos, along with a plethora of shops, and other fun such stuff. Dean and I had talked about getting a timeshare because he is an airline employee, so it would seem smart to do somethign like that. We briefly talked to a timeshare person on day one, but he was so pushy that he kind of got under Dean's skin. I was all for doing an hour for a free Hanauma Bay trip! I have to say, if anyone wants a vacation home, go with Hilton! We have to decide between Hilton and Marriot, but only because Marriot is the club I belong to, and I am a super Gold member! I'd have to say, Hilton is the place of choice right now.
Here's a shot of the "Hawaiian Village" from Waikiki Beach
They have their own beach, their own saltwater lagoon that is filtered, great for kids! Waterslides in the pool area, an aviary, and very deluxe 1 and 2 bedroom suites.
Dean wanted to walk faster than my blistery feet could handle, so I just stayed behind and took pictures. See him, he's waaaay further than me! Diamond Head is in the background there.
We talked about what we could afford, and what we needed, and whether or not we could pay in installments. It was just really different than any other timeshare place I have ever been to. I am kind of a cheap person, so when someone says, spend two hours listening to our speech and I'll give you free tickets to see Cirqe De Soleil, I'm all for it! Two hours of sitting, and saying NO THANKS, and free $100 tickets, of course! So, when they said, "whatever you want..." I was hooked. This is probably why they're so successful!
We are planning on taking the kids in June to Hawaii, when Dean has another week off...and if we make payments now, we can stay in a 2 bedroom suite (and its a SUITE!) with a full kitchen, three beds, and all the amenities for free basically, all the money we pay for the hotel stays goes toward our principal payment. I'm sold! :)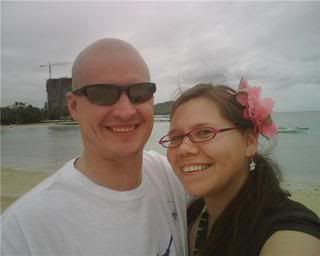 Here we are when Dean waited for me! :)
We had a nice dinner out together. The trip was just an absolute success!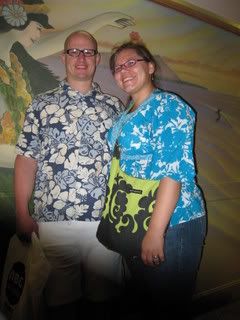 Of course, the weather in Kotzebue wasn't as warm as we'd like it to be...(we're only asking for above zero) but getting from Kotzebue to Honolulu, and back again in five days was an accomplishment in itself. We had a beautiful sunset to watch on the flight from Anchorage to Kotzebue, and were greeted very happily by our dogs and kids!
Until next time... Maija