You gotta love Alaskan Weather. One day its 54 below zero and freezing your breath as it escapes your nose. So cold you feel it in your lungs.
My aana visits Nina Ahkpuk, the Tribal Doctor over at the Senior Center.
The next day its 45 above and melting the sea ice in soft pillowy forms and causing the entire City to go into Disaster mode.
Today was a disaster mode day.
Fire Department personnel stood guard on each cross section of Front Street not because of flooding, but because the super-duper-awesome lights that went up this summer as a part of the "New and Improved Front Street" can not withstand the high winds we are all accustomed to experiencing in the winter.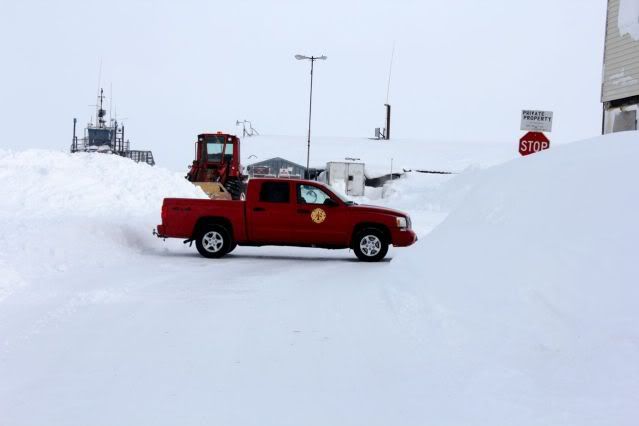 Come on. It's windy in Kotzebue. That's not news. But residents on Front Street either were stuck in their homes, or shuttled over to the hospital or Senior Center "just in case." Like my aana, we took her over to the Senior Center to hang out while the winds blew and blew.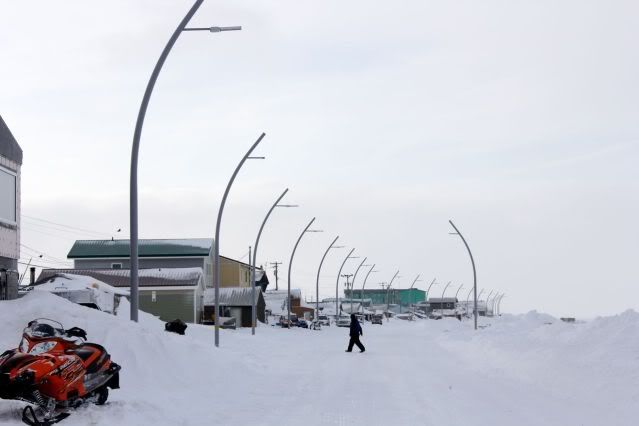 The warm weather and wind only compounded the "disaster" in Kotzebue when representatives from all over town met at the Fire Hall at noon to be prepared for the worst.
The corner of the Alaska Technical Center was experiencing flooding, so they closed down for the rest of the day. Their fire escape driveway was completely waterlogged when I drove by earlier.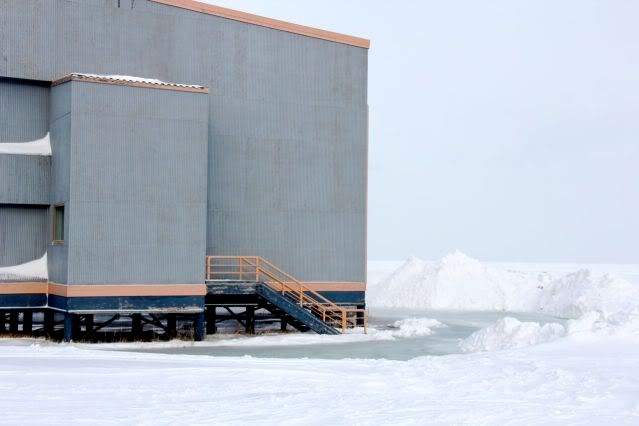 Several yards on the outskirts of town were also experiencing flooding, although this photo is my next door neighbors yard and due to a Loader operator trying to catch up with the snow drifts and knocking down fire hydrants. (We were without water for like 18 hours. City officials and employees stayed up all night trying to stop the water from flooding through the road. I'm happy to say we DO have water again! Yay for City workers!)
The very end of the street where the Airport begins was also pretty close to seeing water come up onto the road. About 2:00 p.m. or so the wind switched and the water started to recede.
So, now I'm going to go pick up my aana and bring her back home. Hopefully she had a nice visit over at the Senior Center.
Read more
HERE
and
HERE
.