Ahh, it's
Celebrate the Boy Month
over at
MADE
and
Made by Rae
and since my firstborn is just that...a BOY, this is going to be a great month. :)
Since my son just got a new parky, I made him some Beaver mittens this weekend. But left my phone at home with the photos. But last night after watching Glee and Raising Hope, I decided to make some mukluks.
What I was really excited about was that my internet and facebook friend
Sabrina
just had a baby BOY, so what PERFECT timing to do a CELEBRATE THE BOY post.
What does every newborn baby need? Why, Mukluks of course! Sure, people get blankets and clothes and all that jazz. But I like to make presents. And Newborn Boy mukluks are the best.
I will eventually have a tutorial and pattern on how to make these, but for now. Just enjoy looking at them! The ONLY thing that would make them better is if they were made out of Smoked Moose Hide. These beauties are made with Blue Felt and Deer Leather with Beaver trim.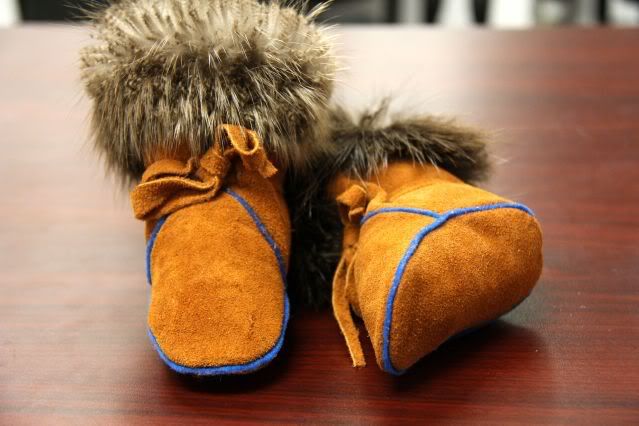 :) Welcome to the world Baby James.