Pictures of your most treasured item.
Item. Operative word.
A knife made by Dean for his dad, that I inherited for sewing. A sewing Ulu made by my dad for my mom, that I also inherited when she stopped sewing.
My husband makes me some awesome stuff. My dad makes me some awesome stuff. My mom makes me some awesome stuff. My aana makes me some awesome stuff. My grandma makes me some awesome stuff.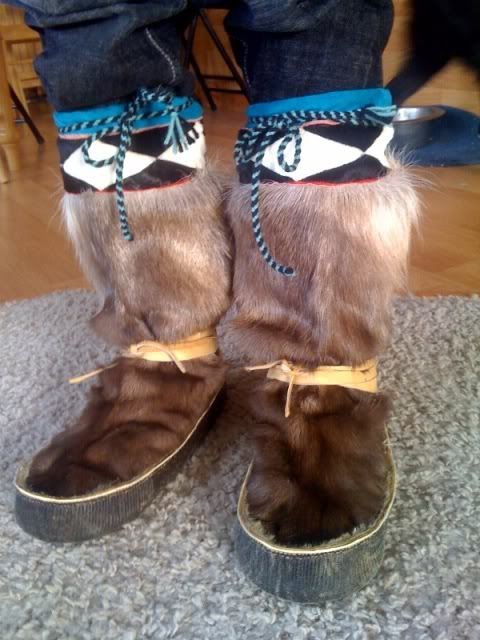 My son's mukluks made by an elder in Kobuk.
Makes. Operative word.
So, I don't really have a "most treasured item" per say. But a lot of treasured stuff. If really take it down to the level of fear and asked me, "if your house was on fire, and your kids and dogs were OK, and you could grab ONE item, what would it be?" I'd say nothing. You couldn't give me fifty million dollars to go into a fire and get one item.
My 11 year old son making a pair of sealskin mittens for himself.
(Which he still has, and wears)
No matter what.
I might throw my computer out the window to see if it would survive on my way out the door, but I don't think anything is worth risking my life over. Even if I have photos stored on the computer that would be devastating to lose.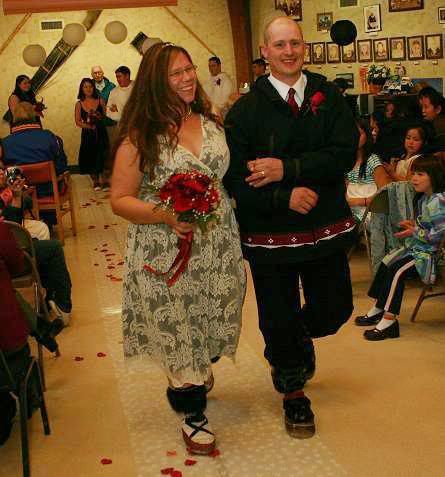 Calfskin mukluks my mom made for me when I was 25. Dean's sealskin mukluks I made for him as a wedding present.
But, if I were moving and could only pack a few things, here's what I'd choose:
A hunting knife for me, made by my husband mirroring my Saami heritage.
Fur Parkys made by me and my Aana. Quilts made by Roxy and my Grandma. Knives and Ulu's made by my dad and my husband. Mukluks made by me and my mom. Atikluks made by me for my kids. Fur hats made by my me and my aunts. Mittens made by me and my aana. Niksiks made by my uncle and my husband.
Mukluks I wish I had the talent to make. Or the money to buy!

My most treasured items are things that people have taken the time to meticulously hand sew, hand craft and actually think about how it would make me feel to receive.
Thankfully, I've inherited the sewing bug. The gene that allows me to look at something and say, "I can make that." The blood runs deep within my veins to sew by hand, by machine and while I dream.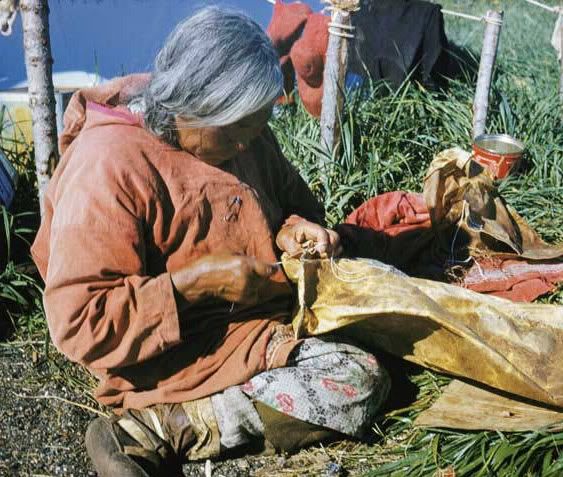 My great-grandmother sewing seal pokes for storing berries and seal oil, taken in 1952 in Sisualik.

And I do love to share that with other people, which is why random people are also the recipients of my sewing goods. :)
My daughter wearing her Atikluks. Atikluks are made by me for my kids, their friends and my family.