Today literally feels like a thousand Monday's gone wrong. And it's Tuesday, one day less to work always feels great for the soul.
Today is different. Seriously. I don't know how my mom did it for years and years and years...
I am tired. But I think I just need a coffee and I'll be good to go again.
I'll just give you a photo play by play, whenever I did have a chance to take a photo, I tried. :) The kids, once again, had a great year and won many prizes including Lip Sync, Foot Races, Bike Races, Qayaq Races, and Animal Calling! They started out with about $20 each and ended up with much, much more, that was promptly spent on lots and lots of plastic junk! An old Kotzebue Tradition!
Here's the weekend in a short but sweet photo display!
Starting at 5:00 a.m. a small group of volunteers and I went over to the freezing fairgrounds and put up all the Carnival Tents for those who had rented them for the weekend.
After the parade we ran home to get photos and I washed my face!
Saturday started the day off with a parade down third avenue to fifth street, and onto the fairgrounds for the Invocation. The weather was hovering around freezing-our-butts-off, so we had to put on a few extra layers of jackets and hats right before the parade. We threw candy and gum for all the spectators. We were also first in the parade.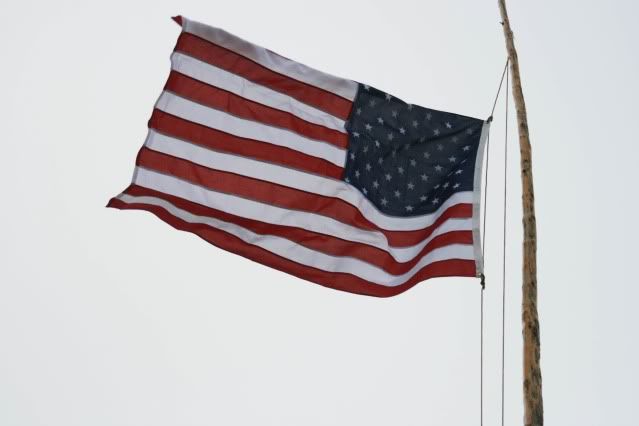 Yes, our flagpole is a spruce tree from up river!
After the flag raising, the 5K race began and the Miss Arctic Circle and Miss Teen Arctic Circle Impromptu Question session was moved to the Senior center because, seriously, it was 34 degrees out.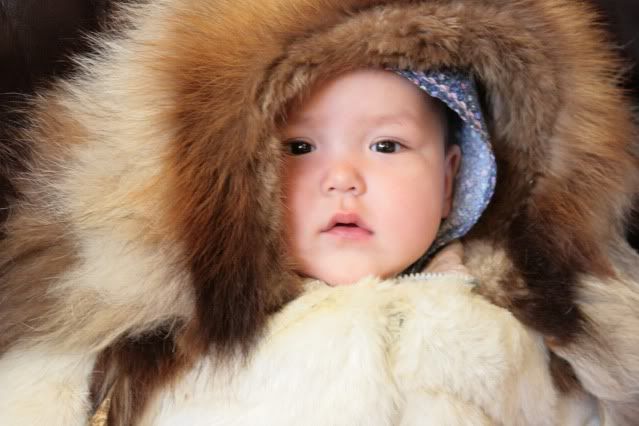 Jenna Schaeffer
We then moved the Lovie Harris Baby Beauty Contest over to the Senior Center as well. The Senior Center was perfectly set up and the Elder's there appreciated the attention they got, and were happy they were participating.
The Tubby Goodwin Muktuk Eating contest was postponed because we didn't have any flights arrive between Friday afternoon and Sunday afternoon, so our Muktuk didn't come in. We also postponed the Qayaq Races to the next day because of weather.
That didn't stop us from having an Animal calling contest though. Although he didn't win this year, Max DID get 2nd again. Just like last year! It was for his version of a wounded duck!
Then came what the girls had been waiting for since last YEAR. The lip sync contest.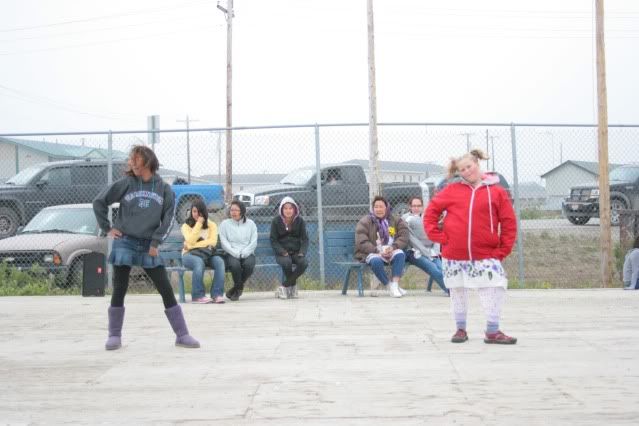 Both girls did a lip sync. Maddie and Zeanna partnered up to do a Ke$ha song.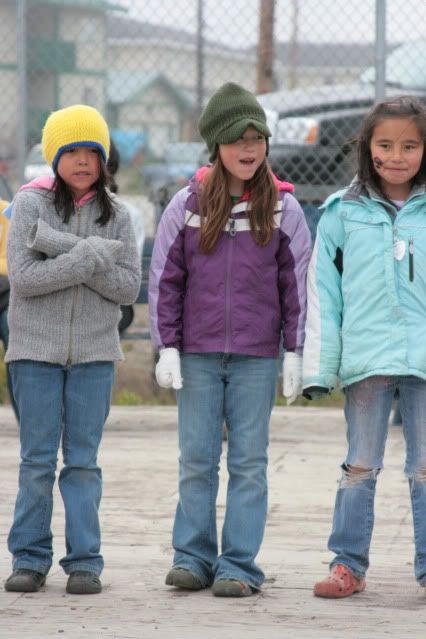 Kaisa did a Justin Bieber song (duh!) and had this whole routine planned, but pretty much stood there with her eyes closed and danced in a little box! That's my girl! Both girls won 2nd place, Maddie in the group and Kaisa in the individual. (I know it doesn't look individual, but Kaisa had some great crowd participation!)
After all this, Kaisa and Jessa participated in the Water Balloon Toss.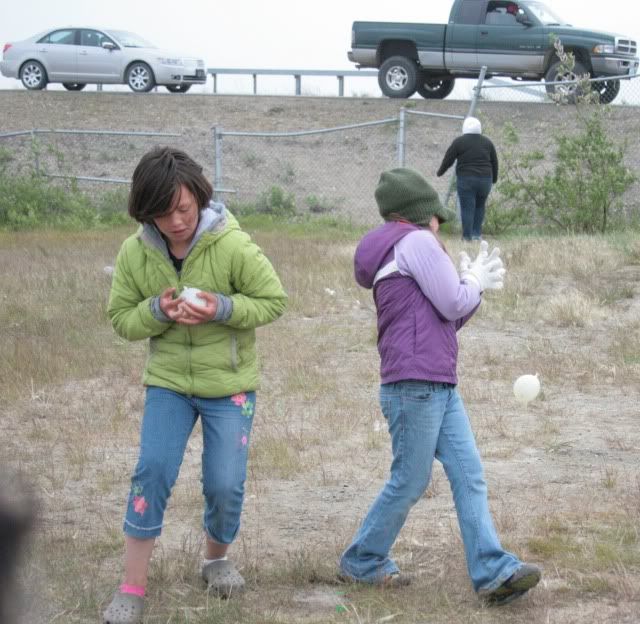 But lost in the second round!
Then we moved over to watch the Miss Arctic Circle Gals do their Talent Show at the Senior Center.
And Saturday was finished off at the Softball field watching the 4th of July Co-Ed tournament.
"Twelve hours later..." (as Spongebob says!) On Sunday...
Saima and I missed Caleb preaching to rush to my office and get all the Baby Contest bags ready. Thankfully, many of our local organizations donated items to the contest and we were able to stuff bags until they were overflowing with Life Jackets, diapers, wipes, cups, bowls, toys, books, t-shirts, mugs for the parents, and snacks for the kiddies.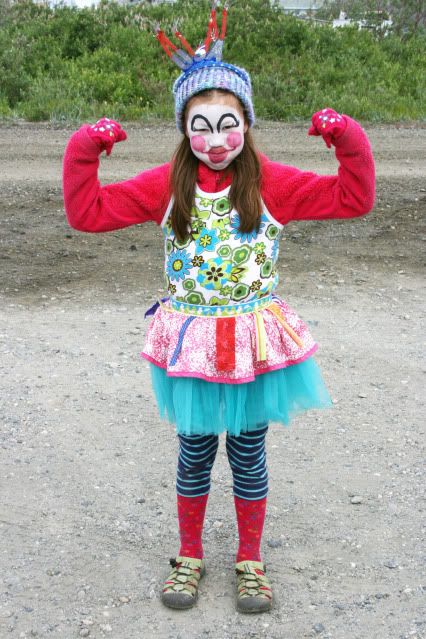 At one in the afternoon, we watched as the Parade winners were announced. Kaisa says to me, "Mom, if only we had wheels, we KNOW we would have won!" And she's probably right, every year we've put an entry into the parade, we've won. But this year...it was ALL clowns for us!
The Miss Arctic Circle winner was announced as well as the Miss Teen Arctic Circle and by this time, we started to see some sun and blue skies.
After the MAC and MTAC acceptance speeches, we started with the Baby Contest again. For those of you who don't know, it was named after my aunt Lovie Harris. She ran it for years and years, and passed away in a fire a few years ago. So, my sisters and I have pretty much taken it over. Gotta keep it in the family right?! Anyway, this awesome baby's name is Jesse James Hildreth. Not only does he have a cool name, he won the Grand Champion, Beautiful baby contest. He had a sealskin cap, sealskin pants, sealskin mukluks, a muskrat parky with white and black calfskin kupaks in the design of a dog team and polar bears, and he had a little shell bag and an ivory tipped harpoon. Seriously.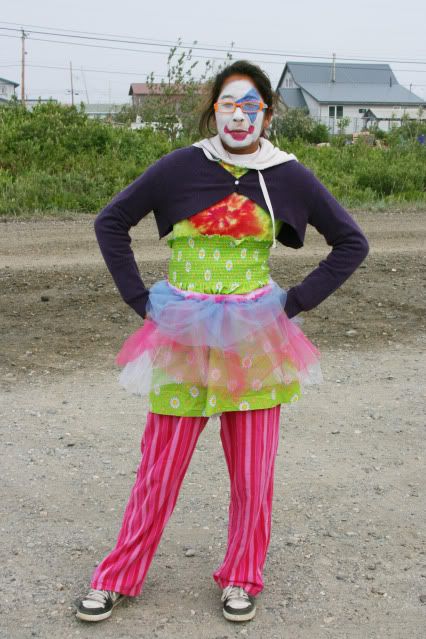 To round off the evening, we had the Bike Races, and Eskimo Games, the Qayaq Races and Eskimo Dancing. (Of course, I didn't get any photos, I wasn't thinking about it while talking on the Microphone!) It did end up warming up and the fog burned off enough that we finally got a jet in on Sunday afternoon. People were actually cheering!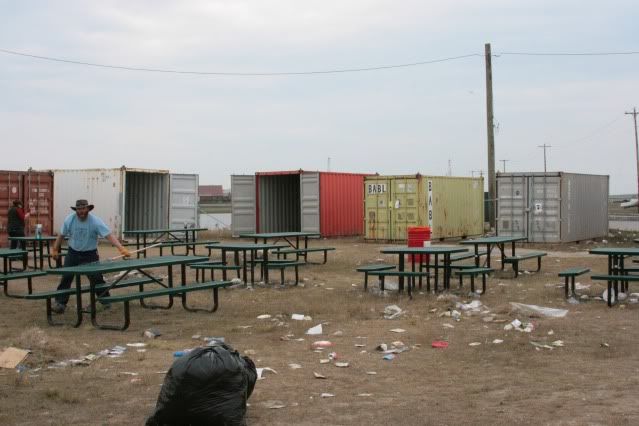 And late at night, someone decided to go through the fairgrounds and dump all the garbage bins all over the ground. So, Sunday afternoon, a group of 3 other adult volunteers went over with some dishwashing gloves and a box of garbage bags and started picking.
We put a message on the air for any kids to come help us for $5 per bag of garbage. Paid half out of my pocket and half out of Gia's. (Hopefully we'll get reimbursed!) We had to split it in half because we paid out $220.00 to those four girls!
But, since we have a silly little competition going on with Barrow, I'd love to hear about their volunteers who spend an entire holiday cleaning garbage and pay out of their pockets for kids to come help. Anyway, I just kept telling myself while picking one piece at a time that it was just like picking aqpiks without the reward at the end!
Happy Independence Day weekend everyone!