There are about 60,000 Sami people in Sápmi: 35,000 in Norway, 17,000 in Sweden, 5,000 in Finland and 3,000 on the Russian Kola Peninsula. It is estimated that there are now also 30,000 descendants of the Sami immigrants to North America who usually hid their identity and settled in areas where Scandinavians and Finnish people settled. They sometimes referred to themselves as Black Norwegians, Brown Swedes, Flat-faced Norwegians, and Finns.
That's me. A Finn.
(

+Eskimo = FINNskimo, in case you hadn't noticed!

)
Which sort of saddens me at the same time as it excites me. Saddens because I really don't know many of the traditions, culture, etc. I don't even know how to wear a Gakti, or how to make one, but I'm going to try. (Always up for a challenge!)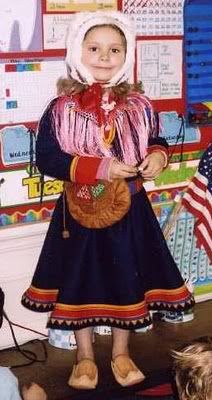 Like the Inupiaq Quppaks (designed fur trim on the bottom of a parka), the Gakti will allow people to know who your family is, and where you're from. If you're a Finnish Sami, or a Norwegian Sami. Or if you're just totally guessing, and would LOVE to have help from someone who was ACTUALLY in Finland and a Sami, and who wanted to take the time to help said person requesting help, who is, of course, only guessing. Like me.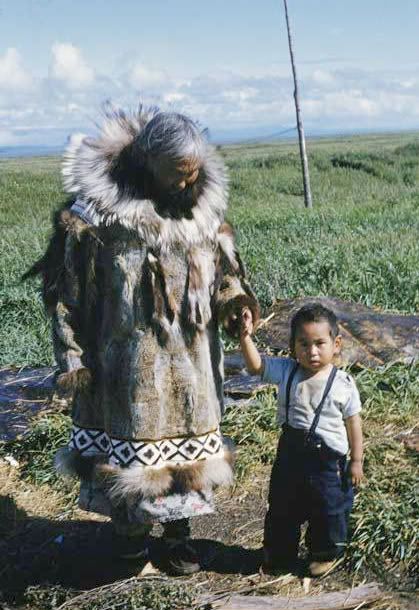 See the Quppak of the Fur Parka worn by my greatg-grandmother in 1952
Both cultures are directly related to the earth and what she provides for us. Both cultures use what Mother Nature gave us to survivie. Because, both cultures are very much Northern in lattitude, we bundle up with the most beautiful gear.
What I would do to make a parky like this...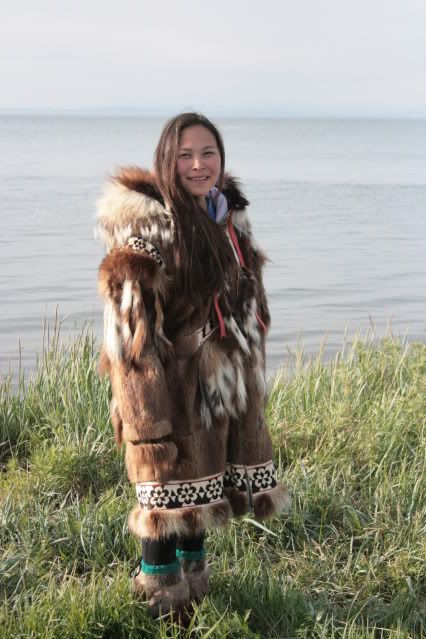 Or this white one...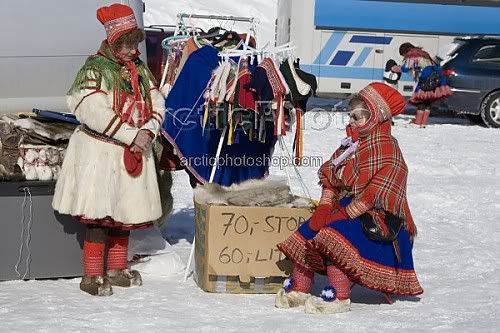 Or have one of these, a Lukka. (right?) I would BUY one...or trade someone something for it. Oh, how I love it so.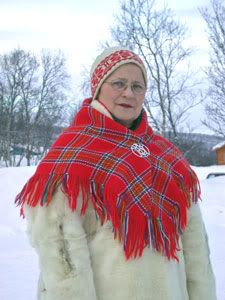 Sigh. I'll just stick with what I know, and what I can guess about for now I guess. Until someone tells me otherwise, and/or teaches me differently. (Yes, that was an open invite to teach me about the Gakti, and how to make a traditional one.)
And when AC is having a sale on Blue Fleece jackets for $11 (which is an absolute STEAL up here), I'll just keep on buying them for my kids and nieces and nephews and make them these:
Being of two distinct cultures, is rather fun, I do think. It's almost like being an Inupiaq in today's world. You're sort of stuck trying to keep traditional knowledge of the past, while attempting to harness the future. Being 50% Finnish and 50% Inupiaq Eskimo makes for quite a conversation when you meet someone for the first time. Do I claim to be white? Or do I claim to be Eskimo? Or do I claim to be Finnish?
Like my moniker says, I claim to be Finnskimo.
(I've posted and reposted, and this photo just does NOT want to be straight!)
Listen brother
Listen sister
Listen to the voice of the ancestors
Why do you let the earth suffer,
be poisoned and tormented?
Listen brother
Listen sister
Hear the voice of our primeval mother
The Earth is our mother
If we take her life
We die too...

(Mari Boine)