*please forgive the iPhone photos! It's all I had!
So, last night in my sewing frenzy, (Sidenote: WHY do I want to sew during 80 degree days? I mean, I could be outside at midnight getting a tan. UGH.) I decided that I'd try the Shirring technique for
this dress
from
Made
(my new favorite blog...besides
Noodlehead
.)
Ok, I've been sewing for many, MANY years. And pretty much I can sew whatever is in front of me with good direction. The pattern from Made is great, and VERY specific, very detailed and has photos for every step of the way. But I still had a hard time shirring. I mean, after several attempts, I just figured this was my first try and I should be happy with the results.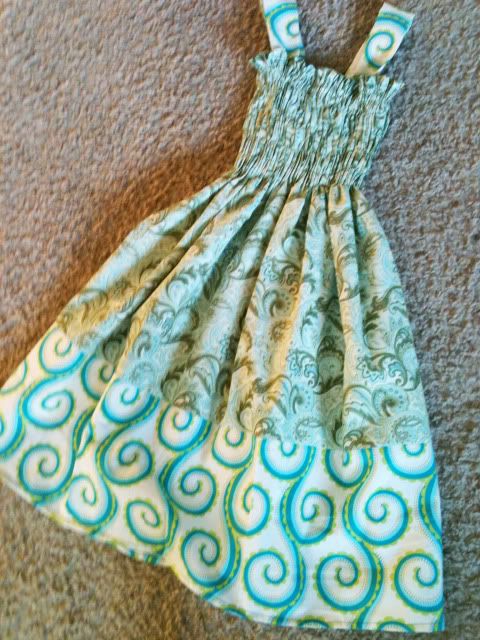 The dress is awesome. A green paisley fabric from somewhere (probably JoAnn's clearance) and some swirly green and white trim perfect for these dusty brown Arctic Summers. I'm pretty sure it'll fit Kaisa, but it seems a little fragile compared to the rough and tumble clothes my daughter needs. I feel like if she's doing backflips off the garage roof onto the trampoline, then it might just pull the stitches out...
But if it fits her for one day and she rocks it, then momma's happy.
And know what else makes me happy? Remembering that I had previously (like three YEARS ago) purchased some already-shirred fabric from Wal-Mart and could just use THAT. Yay, Joy of all Joy's!
So, Maddie got a summer shirt. Because I had just a tiny bit left over from Maddie's shirt, I wanted to use the rest of it up. So I had to think for a second who my most Skinny-Minnie was, and lo and behold, its Brooky!
So Brooky got a summer dress too. I showed up at 11pm last night and put it on her, she ran through the house and wanted to go play outside with her "NEW DRESS!"
*I just added this one from last night!
Happy Birthday Sim-MONEY!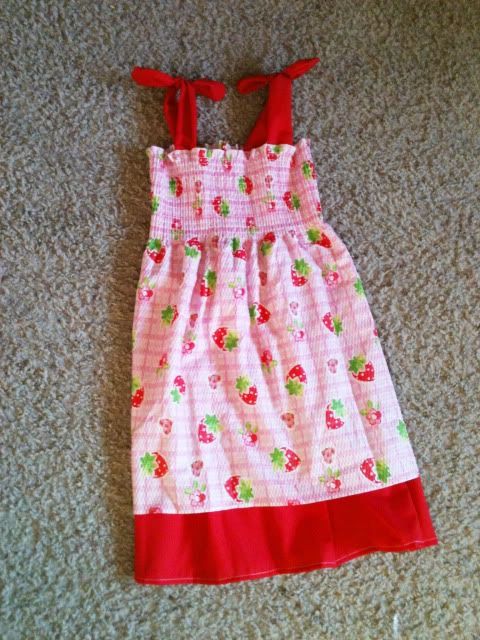 And there you have it. A super adorable summer dress that I'd highly recommend if you're not just starting out in sewing. Unless of course you have mad skills in the sewing department and your elastic bobbin works well for you, then go for it. But buy the pattern from Made first, it'll make your life a heckuva lot easier!