What I was going to write during my lunch today was how mad I was that the girls stayed up so late. I was going to complain that they woke me up at 12:30 am, then 2:00 am, then 4:00 am, then I finally elbowed Dean after four and made him tell them to get to sleep. I was going to complain that I was tired. And cranky. And had to make my own espresso this morning.
Because after an awesome birthday party filled with making our own flower/feather/crafty headbands and clips, we played Eskimo Bingo, and opened presents and ate butter cake with cream cheese frosting and Birthday Cake Ice Cream. Then Maddie and Kaisa had a slumber party, with the agreement that they'd go to bed by at LEAST two! Six girls giggling all night doesn't constitute a good nights rest for me!
But they didn't. And I was tired and horrible this morning.
But what a change five minutes makes. Early this morning, when I got to work, groggy and tired, the Search and Rescue squad was outside my door waiting for me. They wanted me to make a "Missing Child" sign, post it on facebook, and send to all the organizations around town.
This little girl, age 9,
the same age as Clara who was dancing at four in the morning
, had been missing since late yesterday afternoon. She was last seen playing out with one of her friends. I scanned the school photo for them, made them a sign, and emailed it to the major organizations here in town. Then I burst into tears.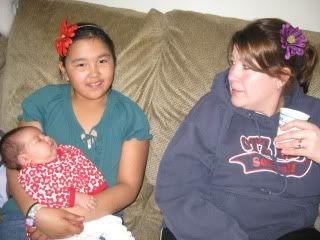 How selfish am I, that I am mad because my girls are all sleeping soundly, safe and happy, albeit probably tired because I am going to wake them up in a bit? A slumber party is supposed to be fun, even if the parents are tired. After all, I was the one who said they could have sleepovers. I remember being that age, and we stayed up late too (I'm sorry Linda, May, Mary and Jackie!) and giggled and watched TV and snuck food and drinks with us. Shoot, I even snuck out to go walking with my friends (I'm sorry for tattling Andrea!), and my girls wouldn't do that! They just wanted nothing more than to dance and sing to the movie Hairspray at four AM! Who am I to deny them of that?!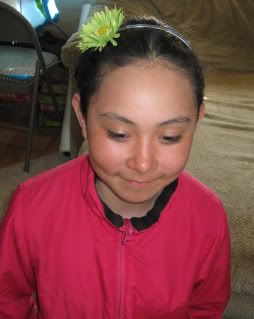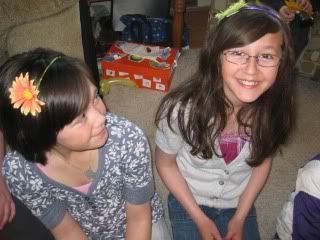 So, now I am fine. The scare of the missing girl,
who was found after a city wide search was called
, woke me completely up and now I am just happy to have my girls, and yours (S, E and S) all safe and sound. And I think I'll probably let them sleep until one pm too! :)
And another thing. This is just another reason I live here. We have never had a missing child report that didn't end up with every organization allowing their employees who were non-essential (not doctors or nurses!) to go home, check their home, their yard, and their neighbors houses for that child. Every organization we talked to was allowing their employees to take OFF work for a half hour, an hour, whatever it took to bring this child back home. Because we are a city who sticks together in times of hardship, sadness and joy. We take care of everyone here. And that's exactly how I feel.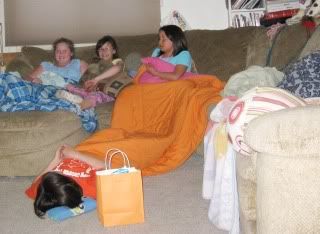 I think its time to go take the rest of my break and go hug all the kids. After they wake up this afternoon.