So, I'm on this diet. And I was very skeptical. Very. Skeptical.
I'm convinced now that apparently whoever at this company "designed" this plan, IS. A. GENIUS!
I have done nothing short of accidentally rub the elliptical machine with my protruding butt on my way past the third bathroom, as far as exercise goes. I admit, Kari and I walked with the kids up to Cemetery on Sunday, but aside from softball and walking I'm a self-proclaimed couch potato!
Come ON people, I'm T.I.R.E.D when I come home from work. TIRED. Not so much physically, but mentally. Mentally tired. Its been getting much better, but I'm mentally tired!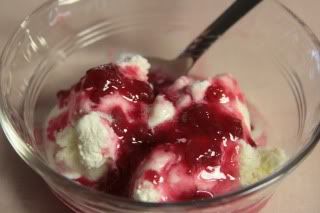 Anyway, back to the diet and title of my post. I am a cheater. Ask my husband. I "cheat" playing games, I cheat playing softball, basketball, etc. BUT...It's not called cheating if you don't get caught right?!
Don't get me wrong, I don't do BIG cheats. I don't cheat on tests, or in life. But, simple things like going 12 spaces on "Sorry!" when I only picked an 11! (
Sorry babe, you were right!
)
Back to the diet now. You're supposed to drink two shakes per day, and eat a sensible meal of 400-600 calories, plus snacks, drink 8 glasses of water, blah, blah, blah!
I do, seriously I do, follow the plan, but every day of the diet I'm a cheater. Some days I eat the sensible meal at lunchtime, and then my husband goes and makes some GREAT dinner, and I just can't say NO! So I eat again. Some days, my friends come over with a "great bottle of wine." And I can't say no to my friends, that would just be rude!
Last night for instance. I downed my shakes like a good little girl, and was all for drinking more water that night. Well, Dean decides to marinate some fresh Musk Ox steaks, and grill them. Cheat number one for the night. Not so bad...its really good for you. I swear.
THEN...(yes, there's more)...my son decides to bust out the homemade vanilla ice cream and fireweed/strawberry syrup. Seriously.
Let me tell you, IT. WAS. SO. GOOD!
My name is Maija. I am a cheater.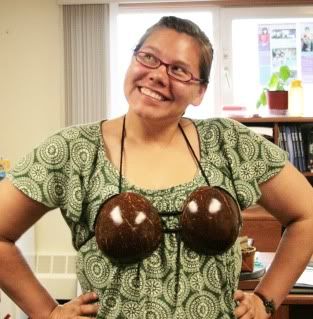 This cheater lost 11 lbs and 14 inches in 8 days. And will someday be able to wear her new coconut bra her friend just brought her from Hawaii. Without a shirt.
I love being a cheater.