Have you ever heard Texan's say that they live in the biggest state? That, "everything's bigger in Texas!"
Do they not understand that Alaska is, in fact, a part of the union...that there are FIFTY states, not forty eight! I mean, come ON!
Heck...if we cut Alaska in HALF, Texas would become the 3rd largest state. We have one SIXTH the land of the entire United States. And guess what? Most EVERYTHING here is organic. Naturally!
We have bigger CABBAGE, bigger moose, bigger deer, bigger tides, bigger crabs and shrimp, and scallops. And yes, we DON'T FARM our seafood.
The deer are the size of moose and the moose hit semi's on the road and ruin them! Lastly...we have bigger FISH!
See?!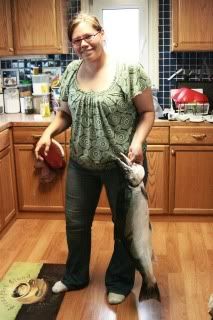 For those of you who don't know what this is...its a TROUT. And it was caught in the ocean a quarter mile away from our house. And I googled trout...it states the AVERAGE trout weights about 10-15 lbs. This one weighs 37 lbs...and we had an even BIGGER one in the tote. :)
So, the next time you hear someone say that "everything's bigger in Texas!" Just remind them, that IF they were to VISIT Alaska...
they would have left the state with the biggest EGO, for the state with the biggest landmass!
Put that on your horse and ride it!