Here's our Sisualik house. My dad built it with my mom because he lived out there for years. It's a perfect one bedroom, five bed, one honey-bucket room sized camp house.
Oh, and what's that over there?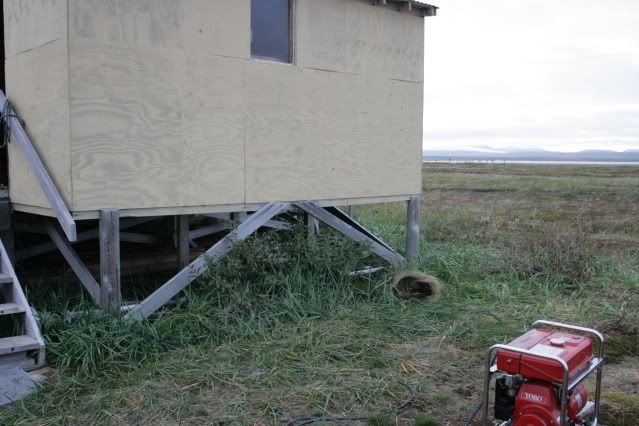 Let's get a little closer shall we?
Ah, gross. It's a porcupine. Ick, I hate porcupines, because they like to chase me. And when we were kids, they ransacked the dog yard and us kids had to pluck all the quills out of the howling, biting dogs.
Dean caught it when they were "squirrel hunting" and the girls were looking for starfish on the beach.
What am I supposed to do with it? They're not too bad tasting, once you get over the quills and long blond hair that you have to burn off with a propane torch, or a campfire. Then, peel the skin off and then you can cook it. Not too much meat on these critters.
Although, if you were to gut it, you could carefully remove the intestines and pinch the insides off like a long piece of sausage from the butcher, let it hang and dry, and use it for all your stomach ailments. Sort of our Eskimo version of Tums. (Yes, I have had it. Yes, it works better than Pepto!)
But, first of all, I need to get the quills off. The lazy version, I just pinch them all off with a leatherman until I discovered that they even stick to the wood I was using to push back the hairs.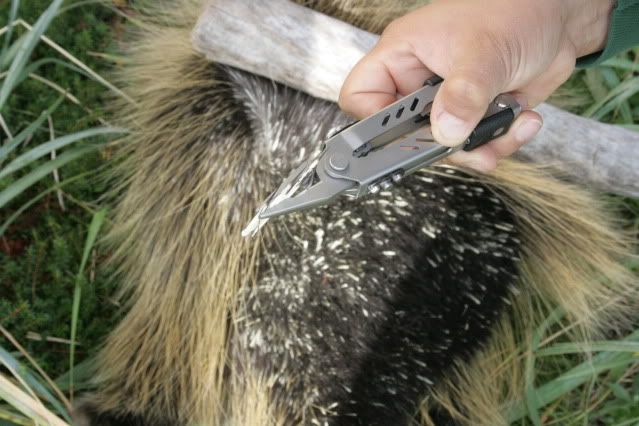 Into the tupperware you go, little quills. Enough to make several earrings out of, once the points are removed. They are great decoration for barrettes, and beaded jewelry.