OK, for those of you who don't know, I have two biological children, children I labored over for hours and hours...or wait, not me, I didn't labor for hours, it was like 45 minutes for Koy and maybe two hours for Kaisa! Sorry, don't hate me cause I have fast babies!
Anyway, in addition the two children-of-my-womb, I have several other "kids." Elsa for example. She's my first kid. I'm her other mom. Now she's married and has a baby, I don't want to be a gramdma, so I'm just an auntie now and a sister to her!
Maddie and Max, they're my children grown in the heart. My husbands twins. Aside from blood and blue eyes, they're mine!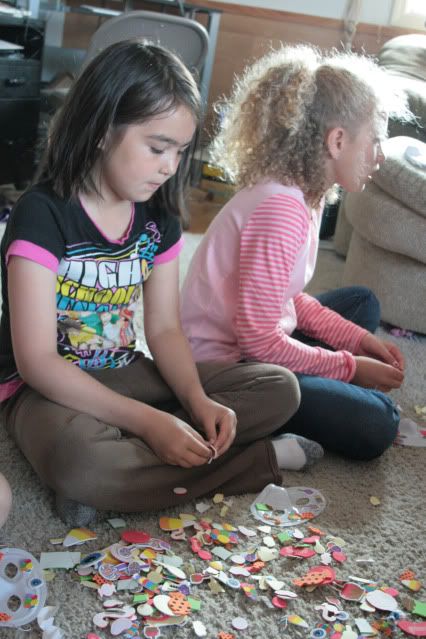 Coltrane. He's my bud. I let him play Nintendo when his mom and dad won't! He's with us most of the summer, cause we have a trampoline, and cause I'm a fun auntie, and I let him play nintendo! (Not that much Saima!)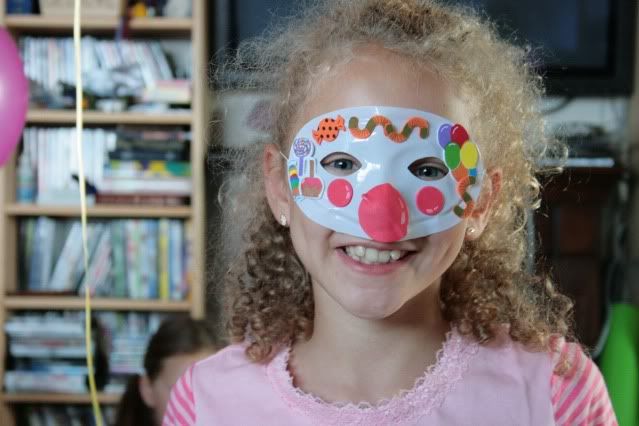 And Clara...she's my biggest baby. She would cry and cry and cry for me. I made her get up and start walking. She didn't like to talk, she liked to point. I wouldn't give her anything until she asked. She called me, "Auntie Momma." And today is her birthday.
Even the biggest grump, my dad, used to say, "you want your auntie momma? then say, "AUNTIE MOMMA, I want you!" and she would have to say that before he let her go! She was my baby while I was pregnant with Kaisa. She rubbed my belly and said, "Baby?" "Baby?" She put dolls in her belly and walked around pregnant. She even rubbed my dad's belly and said, "Baby?"
Our Clara Dawn, who couldn't say her "R's", so we asked her millions of times, "What's your name?" "Clawa Dawn Gweene."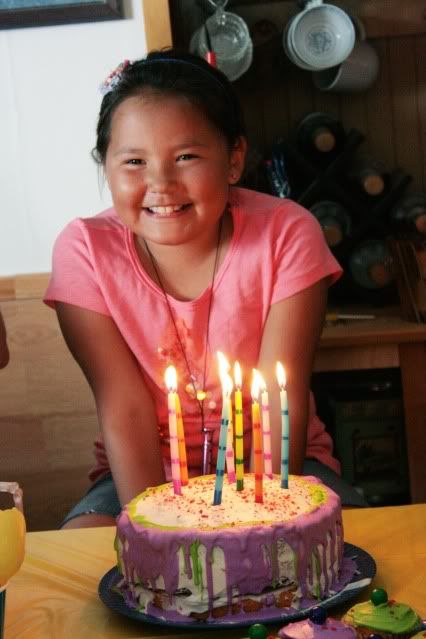 Our baby girl with the curls. Happy Birthday Baby. Auntie Momma loves you! Our Eeka Beeka Beeka Beeka Beeka...(Remember Boo from Monsters Inc? She talked JUST like her when she was little!)
She wanted a fun birthday party, so I called her to see if she wanted a "Candy Party!" Well, duh, of course she wanted a candy party! She said, "Are we having it at your house auntie?" "Of course we are!" My sister jumped a flight to Anchorage for the day to shop, shop, shop for the party (1. cause she can, and 2. cause we couldn't spend that much money at the store here...). Dean even put up our "carnival" tents and the girls put balloons up on them.
It was a fun filled day with BEAUTIFUL weather, after a full weekend of kid softball. (Clara's team got third in their league, Koy's 2nd in his, and Kaisa's probably last!)
The kids should be majorly tired out because all weekend they played softball. Clara actually played THREE games in a row in the 80(ish) degree weather, then we had her birthday party, THEN we took them swimming on the river and THEN we got stuck out there because of high winds and had to sleep in tents on the sandbar. They thought it was the best time ever.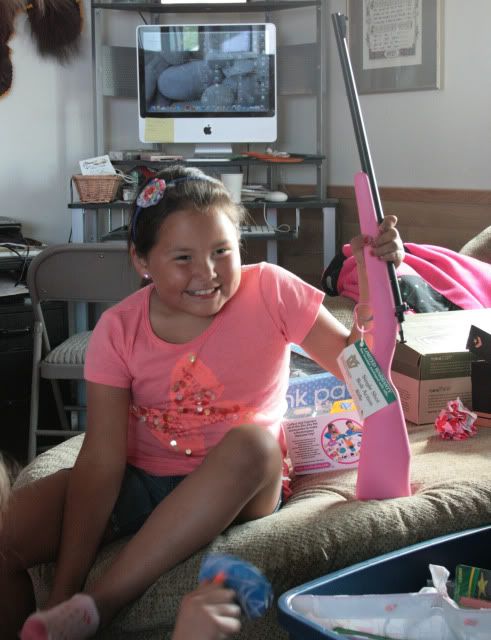 She even said, "I had the best birthday ever!" Then quickly added, "Can we go swimming again tonight?!"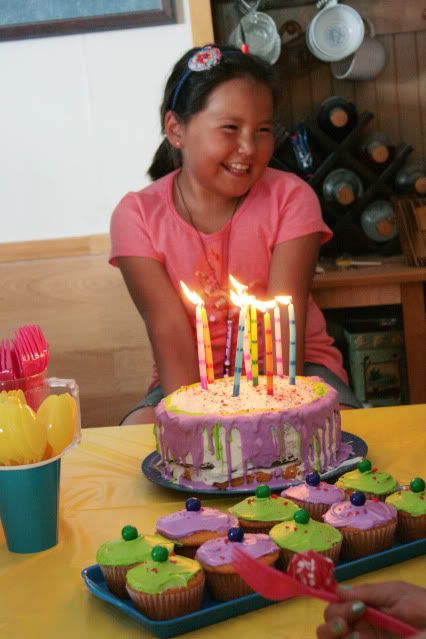 Auntie Momma loves you Clara Dawn, Happy Happy 9th Birthday Baby girl!